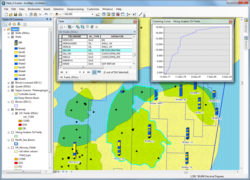 The conference is important as it helps us stay aligned with Esri's strategy and ensure that our solutions are fully complimentary to Esri's going forward.
(PRWEB) March 14, 2013
Exprodat, an Esri Gold Level partner, provides customers with a unique combination of GIS expertise and real-world petroleum industry experience. As Esri is the market leading GIS supplier in the oil and gas sector, Exprodat has based much of its offering around the ArcGIS platform.
Exprodat became an Esri Gold Partner in 2011 and since then has had a working partnership with both ESRI UK and Esri Inc. These partnerships are set to continue and strengthen in 2013 to the benefit of oil and gas companies around the world.
Technical Director Chris Jepps explains why attending the conferences in California are always on the Exprodat calendar: "The Esri Business Partner Conference is a key event for our senior management as it enables us to get an early look at what Esri are planning for the coming year, both in terms of technology as well as marketing and sales initiatives. Along with the Esri International Developer Summit, which runs concurrently and to which we send a number of our technical team each year, the conference is important as it helps us stay aligned with Esri's strategy and ensure that our solutions are fully complimentary to Esri's going forward."
Learn more about Exprodat at their company website: http://www.exprodat.com/