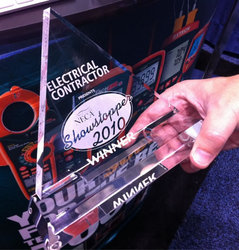 Boston, MA, USA (Vocus) October 5, 2010
Extech Instruments (http://www.extech.com/instruments) announced today that its game-changing Extech EX540 wireless digital multimeter and datalogger has been awarded a 2010 NECA Blue Ribbon Showstopper Award. The award is given to exemplary products exhibited at the 2010 NECA Show held October 2-5, 2010 in Boston, Massachusetts. Of the 116 entries, 20 products were selected to receive awards. The EX540 will be featured in the January 2010 issue of Electrical Contractor magazine, the official publication of the National Electrical Contractors Association (US).
About the Winning Product
The Extech EX540 digital multimeter is the first handheld multimeter to offer wireless data streaming to a laptop or PC for datalogging or real-time monitoring.
The innovative new meter offers wireless connectivity to your laptop or PC using a USB receiver with a range comparable to Bluetooth™ (10m/33 ft). The EX540 transmits real-time data for monitoring, trending and analysis (using the included software). The new DMM is part of the EX500 series of industrial multimeters, considered the "tough book" of multimeters. Extech's ruggedized, waterproof design can withstand a 6-foot drop, making it the ideal starting point for a go-anywhere DMM.
Now, electrical professionals can monitor and datalog readings at a safe distance from hazardous locations. Additionally, it is easier to perform remote tasks such as powering up a device from a control panel that is not nearby. From a time-saving perspective for laptop users, the EX540 permits a user to set up his or her laptop at a centralized location and then sequentially datalog readings throughout a site without relocating the laptop.
Ruggedized to industrial-duty specs, the new Extech is a True RMS DMM that, in addition to wireless datalogging, can log up to 9,999 readings internally and also reads voltage, current, resistance, capacitance, frequency (with dual-range sensitivity for electrical and electronic work), duty cycle (dwell), continuity, diode testing (2.8V), and even temperature (using its Type K thermistor bead probe).
The new meter features accuracy that is a tough-to-beat 0.06% and it is backed by a Category IV overvoltage safety rating, protecting users even on outdoor wiring.
Several one-button statistical data functions include minimum/maximum, relative, hold, and peak hold as well as selectable auto-ranging or manual-ranging. An analog-style bargraph complements the EX540's informative triple-reading display.
The Extech EX540 includes double-molded test leads, USB wireless receiver, temperature probe, magnetic hanging strap, 9V battery and carrying case. Additionally, NIST calibration is available. The suggested retail price for the EX540 is $299.99. For more information, contact Extech Instruments at 781-890-7440 or visit http://www.extech.com/instruments.
About Extech Instruments, a FLIR Company
Headquartered in Waltham, Massachusetts, USA, Extech Instruments is one of the largest suppliers of test and measurement equipment worldwide. Founded in 1971, Extech is known for its depth and breadth of products and its innovation in providing instruments with unique combinations of features that make them highly useful and very convenient. All Extech meters are distributed worldwide through leading representatives, distributors and OEMs. The company is ISO 9001 2000 certified and is a wholly owned subsidiary of FLIR Systems, Inc. Visit http://www.extech.com to learn more.
Attention Publishers:
Please send all sales leads to Tracy Tumeinski, Marketing Communications Coordinator,
Extech Instruments, 285 Bear Hill Rd., Waltham, MA 02451 USA
Phone: 781-890-7440; Fax: 781-890-7864
Email: tracy(dot)tumeinski(at)extech(dot)com
###