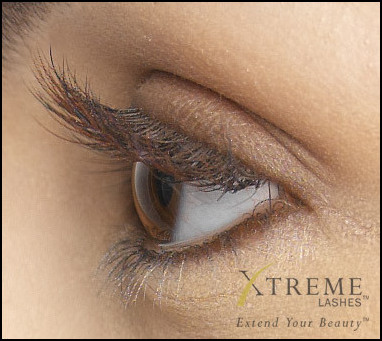 Xtreme Lashes were the most popular beauty treatment at Fekkai, ranking above mani-pedis and blow-outs.
Spring, TX (PRWEB) March 6, 2007
A little over a year ago, eyelash extensions were just another new buzz beauty treatment on the beauty scene. Today they are the hottest service in town! LA Times' Reporter Elizabeth Snead went to Frederick Fekkai's Beverly Hills salon days before the Oscars to check out what stars were doing this year to prepare for the big event. According to Elizabeth's 'Styles and Scenes' article about her experience, "Xtreme Lashes were the most popular beauty treatment at Fekkai, ranking above mani-pedis and blow-outs." She said "99% of Hollywood actresses" are having them applied this week to "get noticed at the Oscars," including stars Beyonce and Jennifer Hudson.
Xtreme Lashes is a top provider of the semi-permanent eyelash extensions. The company sent a team to Fekkai to personally give the beauty treatment to stars wanting that extra "wow" factor for this year's Academy Awards. Dreamgirls' Anika Noni Rose spent a little over an hour having Xtreme Lashes applied the Thursday before the Awards. Getting the beauty treatment in advance gave her extra time to prepare for all the pre-Awards events and parties she was attending that weekend.
Oscars weren't the only awards event where eyelash extensions are placed high on the celeb beauty treatment list. Last year's Emmy Awards saw even somewhat conservative celebrities such as Allison Janney from The West Wing indulging in a set of Xtreme Lashes. The 2006 Golden Globes had Angela Bassett and Daryl Hannah sporting them as well.
So, what is it about eyelash extensions that have these stars and others hooked? Beverly Hills Celebrity Stylist and trends expert Billy Lowe has some thoughts on the Hollywood lash boom. Lowe believes the high demand is due in part to a combination of busy lifestyles and the perpetual beauty that eyelash extensions provide. For celebrities and other high profile women Billy said, "Eyelash extensions can provide a time saving step in the hair/makeup beauty treatment process and they have the added bonus of never tearing up, running or smearing. Less fuss, less touchups and the mornings go by that much faster when pressed for time. Everyday these ladies can virtually get up and go, whether at home or on vacation, and look fabulous with little or no makeup." Xtreme Lashes can last indefinitely if touch-ups are done every two to four weeks to replace lashes lost due to natural shedding. For stars that are photographed daily, even while running to the grocery store, eyelash extensions have become almost a necessity.
Xtreme Lashes' Training Director Noor Daoudi said, "Our application procedure is painless. Clients recline comfortably with their eyes closed during the entire procedure. It's so relaxing; most clients simply sleep through it." The cost to get your own celebrity inspired eyelash extensions varies throughout the country but generally falls between $250 and $600 for a set of 50 to 60 lashes per eye. Touch-ups are usually done for a fraction of this, depending on how many extensions need to be added. As a Stylist, Billy loves the idea that lash extensions can be created to suit the individual. "Professional eyelash extensions are applied one-by-one, so you can create, sculpt, and contour based on the needs of the client (male or female) and any events they may have coming up." Take a tip from Billy though and "be sure you're working with a seasoned expert to get the best results not only for the initial procedure but for the follow-up visits as well."
About Billy Lowe:
Billy Lowe works with the hottest names in Hollywood including Ellen DeGeneres, Debra Messing, the cast of Desperate Housewives and many other celebrities. He has been featured and quoted in countless publications on beauty tips and trends including Entrepreneur Magazine, Life & Style, In Style, Cosmogirl, Parenting, FIRST for Women, Celebrity Hairstyles Magazine - just to name a few. Visit http://www.billylowe.com for more information.
About Xtreme Lashes LLC:
Xtreme Lashes LLC is a provider of premium quality eyelash extension kits , accessories and high quality hands-on training workshops. The company is headquartered in Houston, Texas, and provides products and training throughout the USA and internationally. For additional information about Xtreme Lashes or to locate beauty treatment day spas and salons with certified technicians, visit http://www.xtremelashes.com.
Media Contact:
Cyndi Lott
Toll Free 877-BIG-LASH
# # #