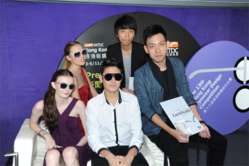 More than 610 eyewear manufacturers and suppliers from 17 countries and regions are expected to exhibit at this year's fair.
(PRWEB) November 03, 2012
More than 610 eyewear manufacturers and suppliers from 17 countries and regions are expected to exhibit at this year's fair. They include first-time participation from Turkey, while France is setting up its largest ever country pavilion to showcase its finest eyewear. Hong Kong Optical fair once again set its stage to facilitate trade between international exhibitors and buyers.
Among the eight eyewear product zones presented at the fair, which covers branded optical products, spectacle lenses, sunglasses, safety eyewear and contact lens, the headlined Brand Name Gallery will house 163 renowned eyewear brands from 20 countries and regions - a must-visit section where industry players can grasp the latest intel of eyewear development and design trends, and provide a business platform for international buyers, manufacturers and suppliers to connect and build business.
Innovative technology and materials in use
Many eyewear brands are dedicated in innovation in manufacturing materials and technologies, to enhance the overall wearing experience. Hong Kong original design AZUOO's frames have 100%-handmade silicone rubber temples, so their frames are very comfortable to wear, as well as being colorful, non-toxic and not harmful to the environment. Another local design brand, REXE Eyewear, offers frames which are hand-polished using the most sophisticated tools and composite materials. The use of eco-friendly Mazzucchelli Acetate allows the frames to be recycled thus reducing the carbon footprint.
Crowned with various international awards, German brand ic! berlin is noted for producing eyewear from 0.5mm thick stainless spring steel sheet metal, using a patented hinge design which avoids the use of any screws or glue in the construction of their frames, making their products light and flexible. Scandinavian design is well known for its classic simplicity - OGA+ wood-based composite material combines the aesthetic appearance of wood but with better resistance and without the defects that wood is subject to (cracks, warping, shrinking and blemishes). The color is completely stable and will not change over time.
Customized eyewear to create unique individual look
Eyewear has evolved from an optometric product to an essential element of fashion. That explains why all the top-notched fashion brands have produced their own eyewear series.
Buyers looking for high-profile glamour will find Guy Laroche hand-made sunglasses, using Italian acetate with Swarovski crystal and metal embellishments, have a vintage feel. British brand TD Tom Davies is noted for its custom-made eyewear, with the customer's name laser-engraved on the frame to create unique and exclusive eyewear.
Coloured contact lenses are all-time favourites among Asians and become increasingly popular in Europe too. They are considered part of the total fashion look. ColourVUE disposable colour contact lenses are made from newly developed Hydrogel material which is remarkably comfortable a result of excellent oxygen permeability, edge design and optimal water content, using latest generation full- and semi-cast mould methods. It prevents the colours coming in contact with the eyes, ensuring safety without side effects. Functionality-wise, another exhibitor, Sauflon, has launched the world's first silicone hydrogel, daily disposable lens for presbyopia.
Design Competition Entries received high praise
HKTDC has given high priority to provide platform for local design talent to introduce innovative eyewear and tap into the global market. Under the theme "Timeless", the 14th Hong Kong Eyewear Design Competition is well participated with more than 200 entries received.
Adding lustre to the competition is our top-notched judges' panel, which includes local fashion designer-Ms Bonita Chow; Chairman of Hong Kong Designers Association-Mr Francis Lee; CEO of renowned local eyewear brand Puyi Optical Ltd-Mr Jeffery Yau; Head of Training of NHJ Style Academy from UK-Ms Isobel Kershaw; Editor of b Magazine-Mr Dal Chodha, to name a few.
Mr Jeffery Yau praises the entries, "The overall standard of this year's competition entries is among the best compared with previous editions. While echoing the theme, the designs also reflect Hong Kong's unique style. I also see their market potential in overseas arena." Mr Dal Chodha agrees, "I'm impressed by the high standard of the entries. It is really interesting to see how the three groups interpreted the brief. Most of the designs could definitely be sold internationally."
Results will be announced and presented at the fair's press conference to be held on 1 Nov. The winning entries will be exhibited at Hall 1B Brand Name Gallery Wine Cellar for global buyers' viewing.