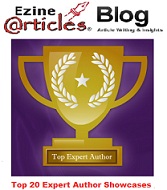 Anyone wishing to explore the whole concept of article marketing should take a close look at
these Top 20 Expert Author Showcases presented by EzineArticles.
(PRWEB) November 12, 2012
Recently, Titus Hoskins, Bizwaremagic author and owner, was listed in the Top 20 Expert Author Showcases featured by EzineArticles.com, one of the most popular article directories on the web. Actually, the author was listed in the third spot, out of 200 Expert Author Showcases featured since 2005 in the EzineArticles blog, which is run and owned by Chris Knight.
The author showcases are used to give members of the EzineArticles site, insight and inspiration, on how to use article marketing to promote one's site or business. It also shines a light on how other authors have used EzineArticles to their benefit, for building and achieving brand recognition on a very crowded web. More importantly, these showcases are actually case studies of webmasters or site owners, who have used the simple article as an effective marketing tool to reach one's goals.
While both the Google Panda and Penguin Updates have cast some serious doubt on the current effectiveness of article marketing, especially when it comes to duplicate/syndicated content and links, many online marketers still believe articles have a place on the web. Webmasters just have to be extremely careful of the "keyword anchor text" in any backlinks as this may draw a penalty if Google believes someone is trying to manipulate its rankings.
"Despite what Google may want, writing and syndicating content on the web is still not a crime," says Titus Hoskins, who runs Bizwaremagic. "However, any article writer must make sure he or she is strictly observing Google's Guidelines if they want to keep ranking in Google. I just hope sites like EzineArticles will keep emphasizing the importance of articles and article marketing."
Despite the whole Panda/Penguin issue and current trends in SEO, article marketing and writing, is still extremely popular on the web. The EzineArticles site alone has over 462,195 expert authors submitting articles on a whole range of diverse subject matter. The site's Alexa ranking is 370 and even Google gives the site a Page Rank of 6.
Anyone interested in learning more about article writing and article marketing, could discover a lot of valuable information by viewing these author showcases. To find out more about EzineArticles' Top 20 Expert Author Showcases just check out the blog entry located here: http://blog.ezinearticles.com/2012/11/celebrating-ezinearticles-top-20-expert-author-showcases.html
About Us:
Founded in 2002, Bizwaremagic.com is an Internet Marketing website, dealing with all aspects of running an online business. It has been fairly successful, welcoming millions of visitors and selling millions in affiliate products, mainly through major affiliate networks such as Commission Junction, LinkShare, and ClickBank. You can follow us on Twitter @bizwaremagic or follow the author on Google Plus: https://plus.google.com/100399661443713589305/