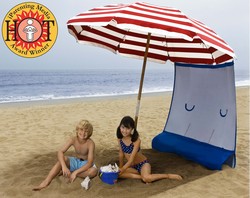 My 'AH HA' moment came while on the soccer field as I watched the shade under the portable umbrellas and canopies shrink dramatically as the day progressed. I said to my husband 'why hasn't anyone invented an umbrella curtain?'
San Marino, CA (PRWEB) July 3, 2010 –
Solar Eclipz is pleased to announce the release of its patent-pending ezShade portable umbrella curtain that instantly attaches to any umbrella. The easy-to-use and durable ezShade is the only UPF 50+ umbrella curtain that instantly attaches to any portable umbrella or canopy and weighs less than 9 oz.
"As a mother, I know from experience that parents will greatly appreciate this product," said Linda Varga, founder of Solar Eclipz. "With two active boys, I have spent countless hours as a spectator chasing the shade." Linda Varga explains, "My 'AH HA' moment came on the soccer field as I watched the shade under the portable umbrellas and canopies shrink dramatically as the day progressed." She said to her husband and business partner, Alexander Varga, "Why hasn't anyone invented an umbrella curtain?" That day the concept of the ezShade was born. "With the ezShade there is no more chasing the shade," adds Linda Varga.
The ezShade is the only portable umbrella curtain on the market. The ezShade is extremely lightweight at less than 9 ounces and has a bottom hook and loop pocket that enables it to be adjusted to the height of any umbrella. Other ezShade features include:
– Instantly attaches to any umbrella or canopy with peel & stick hook & loop
– UPF 50+ blocks over 99% of UVA & UVB rays
– Pocket can be weighted with lightweight objects to keep the curtain from blowing in the wind
– Weighs only 9 oz. / 1 panel 56.5" X74"
– Can be easily repositioned as the sun moves with the 12 peel & stick hook strips that are included
– Comes with free tote for convenient storage and carrying, and a roll-up strap for convenient carrying
– Available in four great colors: blue, green, red and yellow
– Additional panels can be added to block reflected sun
– Multi-use: Designed to work wherever sun protection is needed, including the beach, sporting events, picnics, school functions and more.
"After many months of research and development we are very excited to offer you what we believe to be the first and only portable umbrella and canopy curtain on the market," Varga said. "As a mom, and now a mom-inventor, I sincerely hope that the ezShade offers you many more shady options for your life in the sun."
Many customers who have tried the ezShade agree that its ease of use and great design make this a must-have product for any outdoor excursion. David Wayte of Santa Rosa, Calif. said, "We got the ezShade and took it on a vacation to the beach and to a soccer tournament. Once we set it up initially, it was very easy to use again each time. It was great at the beach, and even better at the soccer tournament where we had to sit in the 3:00 summer sun for a 2 hour game. The Shade is very light & transportable, simple & well designed. I'm sure we'll be bringing it with us to all our outdoor events!"
iParenting Media Award (a Disney-owned company) recently selected ezShade as one of the 2009 outstanding products and licensed Solar Eclipz to use their seal of approval on its packaging. In addition, ezShade received the Melanoma International Foundation's (MIF) Seal of Endorsement, which is also displayed on the product's packaging. Solar Eclipz is certified as a woman owned business by the WBENC.
To order, visit myezshade.com. For more information about Solar Eclipz and its ezShade umbrella and canopy curtains, visit http://solareclipz.com.
###