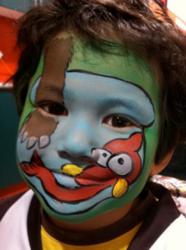 I was so happy with your staffs creativity and friendliness but the parents and most especially the kids too. Thank you so much for such a memorable and fun event. I was complimented as having the best first birthday party....
Melbourne, Victoria (PRWEB) March 10, 2013
We Love Face Painting! will have an artist on site at the Fairfield RSL bistro every Saturday from March 16th to June 29th, the RSL is excited to be introducing Kids Face painting & Balloon twisting every Saturday afternoon from 12:30 -2:30pm and the WLFP Team is happy to be apart of the initiative. There are a lot of young families in the area and everyone involved believes it will be a success.
We Love Face Painting! owner Shelley Bledsoe is proud to partner with the Fairfield RSL with the possibility of more to come on board. Shelley founded We Love Face Painting! in 2007 and is one of the biggest advocates of this art form. She and her staff truly love the business of face painting and look forward to entertaining the kids and their families at these events. For Shelley face painting is more than a business. She tells all of her clients, "We love our work because it is such a great joy to make people feel special. We love how face painting makes us feel too! Our greatest reward is feeling connected to the community, we are privileged to share in your special occasions, and to meet people from all walk of life. We love to watch the magic of art impact on peoples' lives. It is our team's sincerest desire to provide each person we paint with a feeling of joy, satisfaction and personal value in the time we spend with them."
We Love Face Painting! offers its services at corporate events, family fun days, movie day events, store openings and children's birthday parties. They specialize in temporary tattoos, adult face painting, Halloween face painting and face painting to keep the kids entertained at any function.
Those who want to learn more about this fun company and its services can visit their website at http://www.welovefacepainting.com.au or call Shelley at 0400 042 612.
ABOUT WE LOVE FACE PAINTING!
We Love Face Painting! is based in Melbourne, Victoria. The firm was established by Shelley Bledsoe in 2007. Shelley has a background in Makeup Artistry so face painting was a natural progression for her and she loves doing it! The We Love Face Painting team thoroughly loves what they do and prides themselves on their reliability, and quality work. The company's face painting designs range from popular full face to cheek art.
EVENT DETAILS
RSL Fairfield
7 Railway Place,
Fairfield 3078
March 16th -29th June (Saturdays only)
12:30pm-2:30pm