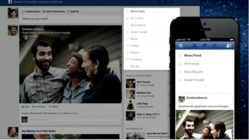 The development could serve as an ally as users break up unwanted noise and actually choose content they use and trust.
Austin, TX (PRWEB) March 21, 2013
As Facebook continues to grow and develop as a social media dynasty, any changes the company decides to implement affect marketers just as much as its 1.06 billion users. That's why Study Breaks was particularly interested when hearing news about Facebook announcing on March 7th that they're unveiling a new News Feed. Among the changes, the new News Feed is set to include a larger, more aesthetically pleasing News Feed space itself (designed to enhance the look of photos and videos), a smaller right and left-hand column to allow for the extra space, and a "sub-feed" tab that exclusively features stories from selected friends and subscribers.
Other changes to expect:

Facebook seems to have actively embraced marketers by allowing access towards streamlining designs across desktop and mobile forums. This change will enhance marketer's messages, as they will no longer have to worry about the look of their content across multiple viewing avenues.
When a group likes or views a business page, now the cover photo of that business will appear in the News Feed as well. Businesses without an engaging cover photo could lose out to competitors with great graphics in terms of an overall viewing experience.
A new "Following" feed on the right side of the home page will help users discover more content from the Pages they like and the people they follow as well, which can help businesses benefit by pushing out awesome, attention-grabbing pictures and posts to attract users to their page.
Sub-Feeds
Probably the most radical change to the new News Feed is the aforementioned, newly developed set of "sub-feed" tabs. Sub-feeds allow users to distinguish what content appears on their News Feed by dividing content into different "sub categories." Instead of friend and marketing content appearing under one classification, the user can distinguish if he/she wants to see content authored by friends only, all image content (in a nod to Instagram), music-only updates, or even content from only their favorite brands/celebrities. While the new sub-feeds undoubtedly divide marketers' content messages, the development could serve as an ally as users break up unwanted noise and actually choose content they use and trust.
Study Breaks College Media provides a one-stop solution for small businesses, providing them with big marketing strategies and delivering college students.
Study Breaks magazine is an award-winning line of monthly entertainment magazines for college students with a mission can best be explained through its slogan: We are college life. Published by Shweiki Media Printing Company, it is distributed in five Texas cities (Austin, Houston, San Antonio, San Marcos and Lubbock) and two southeast cities (Athens, GA; Columbia, SC). (Studybreaks.com)