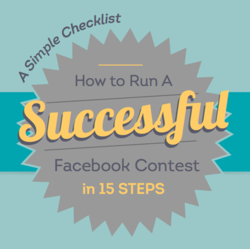 Contests have proven to be very popular among our more than 200,000 users
Reno, Nev. (PRWEB) March 27, 2013
ShortStack, a self-service app creation platform, has released a free 15-step guide that outlines how to run a successful Facebook contest. Click here to download a PDF of the guide.
"Contests have proven to be very popular among our more than 200,000 users," said Jim Belosic, CEO, ShortStack. "Contests are a good way to increase "Likes" and engagement on a Page. Facebook Pages with large audiences may see instant success with a contest, but Pages with smaller followings really need to do their homework, know their audience and use best practices to get the same results. This guide provides an easy-to-follow checklist for business owners to follow."
The 15-step guide covers all the steps a Facebook Page Admin needs to take when planning and executing a Facebook contest. Topics covered include setting goals, design, choosing a third-party app, adhering to Facebook guidelines, keeping within a budget, promoting the contest and making sure any information collected about customers and potential customers does not go to waste.
Currently there are more than 42 million Facebook Pages; 15 million of which have been created by small businesses and brands. With a majority of businesses joining Facebook in hopes of establishing an online presence, improving customer loyalty and increasing sales, a contest is the easiest way to get more Fans, more visibility and more engagement.
Businesses turn to third-party apps, such as ShortStack, that make it easy to create Facebook contests that are fully functional on desktop and mobile devices. ShortStack also has several features in place that help eliminate contest fraud.
ShortStack is the platform of choice for some of the biggest brands and celebrities on Facebook, including NBC News, ZipCar, Newegg.com, Black and Decker, Pitbull, Falken Tire, Ford Racing and Lynda.com.
The platform is designed to help everyone from small business owners to big name brands create custom apps that harness the power of social media. ShortStack delivers these services through a do-it-yourself platform that consists of more than 40 tools, 70+ templates and an extensive library of support documents, videos, references, and an email support system.
About ShortStack
ShortStack is a self-service custom app design tool with features that include contests and sweepstakes, newsletter signup forms and integrations with YouTube, Twitter, RSS and more. ShortStack apps can be installed wherever – to Facebook, websites and blogs, and they're even viewable on mobile devices. To learn more about ShortStack, visit http://www.shortstack.com.
###