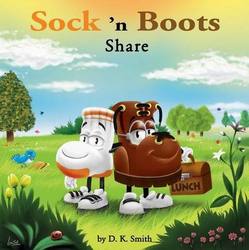 "It's like the world's largest opinion poll where the whole world is invited to give their opinion of the characters." -D.K. Smith
Los Angeles (PRWEB) November 23, 2010
What is the quickest way to tell 10 million mothers about two loveable new children's book characters for their children and get their feedback? With nearly 100 million daily facebook users and 200 billion videos viewed each day on YouTube, the perfect platform would have to be the Internet.
Children's book author and creator of the "Sock n Boots" series D.K. Smith has decided to use the leverage that the internet provides to introduce moms and children from around the globe to Sock and his best friend Boots.
A mischievous and emotional little gym sock teams with a smart adolescent combat boot as best friends and stars of the first book in the series "Sock n Boots – Share." The pair has already been given the distinction as "the two most loveable pieces of footwear around."
Smith and his staff did target marketing earlier this year and were met with positive responses. "It was amazing; we got responses from as far away as New Zealand. Parents just loved the characters and the stories. Children fell in love with the characters as well which was good news to our team," said Smith.
After teaming with Argentinean illustrator Lorena Isabella (http://lorenaisabelsuarez.blogspot.com), Sock n Boots came to life and began to build a small following.
The books were designed to "turn reading time into an interactive bonding time between parents and children," according to Smith. The books appear to have a positive message and loveable characters, but public opinion has long since been the catalyst to send children's books into orbit which played a major role in Smith's decision to find a large cost effective platform to expose a wider audience to the characters and the stories. In conjunction with Spark Flow Studios, Smith created an animated cartoon book trailer based on the antics of the characters with the hope of getting even more feedback and stealing as many hearts as possible in the process. The cartoon can currently be seen by visiting http://www.facebook.com/SockandBoots
"We have done limited test marketing which turned out well, but we want to open things up to the whole world," Smith continues, "cartoons are timeless. Children will always love cartoons and many parents still love cartoons. My hope is that this cartoon short will attract parents and children from all over the world. We want as many people as possible to fall in love not only with the storybooks but with the characters as well. I hope that Sock and his pal Boots will become the new best friends of this generation and become iconic for generations to come."
To find out more about the Sock n Boots storybook series visit http://www.facebook.com/SockandBoots http://www.SocknBoots.com
###