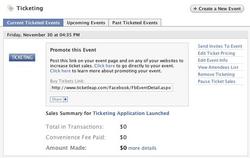 Philadelphia, PA (PRWEB) November 13, 2007
TicketLeap today announced the 'Ticketing' application built on Facebook Platform.
The 'Ticketing' application allows users to sell tickets to their Facebook Events. Rather than focus on large-scale events one might typically see offered by Ticketmaster or Stubhub - 'Ticketing' is designed specifically for events organized by Facebook users and their friends.
"We're giving Facebook users an easy way to sell tickets to their events. Our application works hand-in-hand with Facebook Events, and we've made it as simple as possible, says TicketLeap Founder and CEO, Christopher Stanchak.
The 'Ticketing' application provides event organizers with real-time sales information directly via Facebook. Once an event is added with the application, friends are notified via the Facebook Mini-feed. Several promotional tools are available including the ability to send friends a 'Ticket Purchase Request.'
Most importantly, the ticket buyer can complete a transaction without installing the application. The user simply clicks a link and proceeds to checkout. The 'Ticketing' application provides secure payment, is certified HackerSafe by ScanAlert, and is PCI compliant. After the event has occurred, TicketLeap pays the event organizer by check or PayPal. TicketLeap monetizes the application by charging a small per-ticket convenience fee.
The 'Ticketing' application is aimed at a global audience and is already handling ticket sales for events around the world via Facebook.
The application can be found at
http://apps.facebook.com/ticketing
About TicketLeap
TicketLeap, the company that offers the 'Ticketing' application, already sells tickets for thousands of events annually via TicketLeap.com. TicketLeap was founded in 2002 as part of the Venture Initiation Program at the Wharton School of the University of Pennsylvania.
Contact:
Carolyn Daniel, Corporate Manager
TicketLeap.com LLC
215-525-1300 x103
pr(at)ticketleap.com
Facebook® is a registered trademark of Facebook Inc.