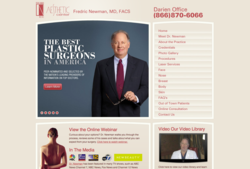 In addition to BOTOX, laser skin resurfacing can be done as a non-invasive procedure, which actually rejuvenates the skin, softening the lines and wrinkles and evening out skin tone.
Fairfield, CT (PRWEB) December 15, 2011
While the holidays are often associated with warmth, cheer, and goodwill, Connecticut plastic surgeon Dr. Fredric Newman says preparation for the upcoming season can often cause undesirable stress that shows in facial lines and complexion. While Dr. Newman says he has seen an increase in cosmetic procedures at his practice in the past few years, he adds that the holidays offer a significantly greater increase in cosmetic facial treatments. The latest statistics from the American Society of Plastic Surgeons (ASPS) report that BOTOX® Cosmetic procedures increased by 12% in the past year. Facelift procedures also saw a growth of 9% since 2009 according to the ASPS study. Dr. Newman says the already growing popularity of facial rejuvenation procedures typically surges during the holiday season as patients seek to combat the signs of aging and enhance their appearance for the social gatherings and parties that ensue.
At his practice for plastic surgery in Fairfield, CT, Dr. Newman focuses on surgical procedures such as facelift and rhinoplasty as well as non-invasive enhancements like BOTOX® Cosmetic and dermal fillers. He says one of the benefits of a surgical procedure such as a facelift is the limited recovery time, making it possible for patients to experience the benefits of a rejuvenated appearance in time for the holidays. "Most face lift patients take a week to ten days off of work. However, the results are substantial in terms of enhancing the patient's youthful look, cleaning up the jowls and improving the jaw and neckline, giving one back a younger version of themselves."
For patients who are looking for a less noticeable improvement to their skin vitality and complexion, Dr. Newman says non-invasive procedures like BOTOX® Cosmetic and laser skin resurfacing can give patients a quick boost in self-confidence through a refreshed, youthful appearance. "BOTOX will soften the lines of the forehead, crow's feet and frown lines, yielding a younger healthier and rested appearance. In addition to BOTOX, laser skin resurfacing can be done as a non-invasive procedure, which actually rejuvenates the skin, softening the lines and wrinkles and evening out skin tone."
Regardless of whether patients are seeking a surgical procedure before the holidays or a subtle enhancement through injectable fillers, Dr. Newman says he recommends consulting with an experienced, dedicated, and board-certified plastic surgeon before rushing into a decision. He adds that patients should thoroughly research all options to find the right practice that is committed to their safety in addition to providing them with the personalized results they want. "It is very important to consult an experienced, board certified plastic surgeon, because you are basically entrusting your health, safety and general well being to that individual. It is equally important to find someone with excellent training, many years of experience, and someone who is kind, caring, and compassionate."
About Fredric Newman, MD, FACS
Dr. Fredric Newman received his education from Yale University and Harvard Medical School and earned his medical degree from S.U.N.Y. Downstate Medical Center, where he graduated summa cum laude. During his residence at the New York University Medical Center, he was the Plastic Surgery Chief Resident at the Institute of Reconstructive Plastic Surgery. Dr. Newman is a diplomat of the National Board of Medical Examiners, the American Board of Surgery, and the American Board of Plastic Surgery. He is also a Fellow of the American College of Surgeons and a member of the American Society of Plastic Surgeons and the American Society for Aesthetic Plastic Surgery. Serving as an Editorial Board Member of The Journal of Aesthetic Dermatology and Cosmetic Surgery, Dr. Newman has been published in several scientific journals and strives to continuously improve his techniques through training as well as investment in the education of others. He has taught at Harvard Medical School, New York University Medical School, Columbia College of Physicians and Surgeons, and several other prestigious institutions.
Located at 722 Post Roade, Suite 200 in Darien, CT, Dr. Newman's practice, the Aesthetic Surgery Center, can be contacted at (866) 870-6066. He can also be reached online through the website http://www.fredricnewmanmd.com or http://www.facebook.com/pages/Fredric-Newman-MD-Aesthetic-Surgery-Center/119873104696021?v=wall.
###