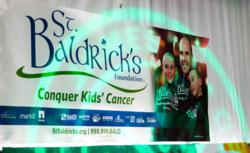 Columbus, OH (PRWEB) March 04, 2013
For the 13th consecutive year, Fadó Irish Pub & Restaurant (Fadó) brings the biggest St. Patrick's Day celebration to Easton Town Center at 4022 Townsfair Way so come thirsty.
Fadó and host X106.7 Radio take on the "Lost Weekend" theme, starting the outdoor party festivities on Saturday March 16. Starting at 9am on the 16th and 7am on St. Patrick's Day, Fado brings the best mix of Irish music, food and entertainment. On Saturday Fadó will also feature a Super Saturday 6 Nations Rugby Tournament watch party to celebrate this year's 'European Champion.' However, the biggest event on Saturday is the annual St. Balrick's Charity fundraising event. From noon-4pm guests come out to support childhood cancer research
Click here to purchase advance tickets!
*Fire, Police, Rescue, or Military skip the cover with ID.
As usual, the authentic Irish pub will proudly begin celebrating St. Patrick's Day long before March 17 with events like a Whiskey Dinner, Paddy's Theme Pub Quiz and St. Baldrick's Charity Event. This year, guests will be hoping to inherit some of that infamous Irish luck, as the annual St. Patrick's Day celebration features a chance to win an all-expenses paid vacation for two to Ireland. The winner will receive flights, hotel and a tour of the Guinness Brewery at St. James Gate in Dublin. To enter the contest, simply sign up for the Fadó email list, and the winner will be announced on March 20.
FADÓ COLUMBUS EVENT CALENDAR
Sunday, March 17 - St. Patrick's Day Celebration at Fadó Irish Pub in Easton Town Center
Pre-sale tickets available now!
Fado hosts an all-day event dedicated to live music and an authentically Irish outdoor festival. Because the St. Patrick's Day party begins at 7am with Kegs and Eggs and continues late into the night, party-goers are encouraged to come early and stay late because "You can't drink all day if you don't start in the morning!"
The Outdoor Festival starts at 8am with live music from Ladies of Longford, Dublin Silver Band, Naked Karate Girls, Cyril Scott Pipe and Drums, Lt. Dan's New Legs, 1988 The Band, and Blood, Sweat and Beers! Plus special performances from Irish dancers throughout the day!
Saturday, March 16 - St. Practice Day Party!
Doors and huge tent open to the biggest Pre-St. Patrick's Day party in Columbus at 9am! The most important St. Patrick's Day event - the St. Baldrick's head shaving fundraiser - starts at noon. This is a fun, family-friendly event for an amazing cause. Help out our team, become a shavee, or just see what it's all about here.. Live music kicks off at 10:30am and goes all day and night with Blood Sweat and Beers, Homeland Irish Rock, Three Ton Toad, Off the Hook, and the Menus!
LEAD UP EVENTS
Sunday, 3/10
Jameson Whiskey Dinner at 5pm
Chef Jason's menu paired perfectly with several great whiskeys!
Reservations are required and this is a popular annual event so it's guaranteed to sell out which means get reservations as soon as possible by calling the pub at 614.418.0066
Monday, 3/11
Paddy's Day Pub Quiz!
8pm - Guests test their St Patrick's Day knowledge and back it up with great prizes including passes to St Patrick's Day!
Tuesday, 3/12
Special Event with the Shamrock Club and Daughters of Erin Guest bartending with the Ladies of Longford Celtic music at 7PM.
Wednesday, 3/13
Busking and Bushmills at 6PM
Join local Columbus musicians and raise money for charity while sampling Bushmills whiskey.
Thursday, 3/14
Guinness Perfect Pint Contest at 7pm. Perfect Pint Trophy and $100 prize goes to winning bartender!
Friday, 3/15
Tinderbox Cigarnival Event in the Tent - 8pm
Live Music from Hat Trick - 9pm
Fadó is an authentic Irish pub- it was originally designed and built in Ireland and then shipped to Columbus. Fadó serves more Guinness than any other Irish pub in Columbus, all of which is to the highest standards. All of our Guinness comes straight from St James Gate, Dublin, Ireland.
To make it a true St. Patrick's Day in Columbus, Fadó will put special emphasis on proper Irish food and Irish drink. You will always get a perfect pint of Guinness, which is served along with proper Irish coffees, Baileys Irish cream, and Columbus's widest selection of Irish whiskeys. All of our Irish food recipes are prepared from scratch: the traditional Irish Boxty, Corned Beef and Cabbage, and the Irish pub favorite like Fish & Chips. Fadó spares no expense to bring its customers the best Guinness and Irish food in Columbus.
About Fadó Irish Pub and Restaurant
Fadó (pronounced fuh-doe) Irish Pub and Restaurant opened in Columbus in 1999. Fadó is distinguished by its genuine Irish hospitality, quality and craic (pronounced 'crack', a uniquely Irish form of fun).Fadó has been voted 'Best Of' by a number of local and national publications. Get more information on our website or http://www.facebook.com/FadoColumbus, or on Twitter @FadoColumbus
Pictures of Irish food, drink and the pub itself are available upon request. Irish barmen and chefs may be available for interviews and pouring and cooking demonstrations.