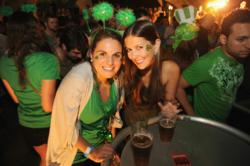 Atlanta, GA (PRWEB) March 01, 2013
In honor of St. Patrick's Day, Fadó Irish Pub in Buckhead has seven days of special events planned for Atlantans looking to celebrate the spirit of the Irish. Fadó proudly pours more Guinness than any other bar or pub in Atlanta and has been the premier destination for the largest St. Patrick's Day celebration in the city for the last 17 years. This year's schedule of events is more fun-filled than ever before with seven days of live music, contests, charity events and food and drink specials beginning on Monday, March 11 and finishing with a spectacular two-day festival "The Lost Weekend" on Saturday, March 16 and St. Patrick's Day on Sunday, March 17.
The week's festivities include:
● Monday, March 11: Irish Session – To kick off the week's festivities, the restaurant is hosting an Irish session at 8 p.m. where guests can gather and listen to traditional Irish music.
● Tuesday, March 12: Whiskey Tasting with Tower Beer, Wine & Spirits – Irish whiskey or Uisce Beathea is known as the "water of life." Fadó Irish Pub is teaming up with Bushmills and Tower Beer, Wine & Spirits to dedicate an evening to the "water of life" starting at 7 p.m. For $39.95 per person, guests will enjoy a selection of Bushmills whiskeys accompanied by small bites and appetizers. Some of the pairings include cheese puffs with Bushmills Original, slow roasted pork belly with Bushmills 16 year and bleu cheese lamb sliders with Bushmills Blackbush. The evening will be hosted by master of whisky, Kevin Mulcahy. Seating is limited for this event and tickets can be purchased here.
● Wednesday, March 13: St. Patrick's Irish Pub Quiz – Hosted by popular Quizmaster Rob, the St. Patrick's Irish Pub Quiz starts at 8 p.m. Teams can compete for prizes, including passes to St. Patrick's Day, while enjoying a menu of authentic Irish food and beverages including corned beef and cabbage, fish and chips, a traditional boxty entree along with pints of Guinness, Harp and Smithwick's.
● Thursday, March 14: "Lucky Pint" Night - The Guinness will be flowing on Thursday night from 8 p.m. – 11 p.m. when guests have a chance of ordering a "lucky pint" of the iconic Irish dry stout. Patrons who find a sticker on the bottom of their pint glass will receive free tickets to the St. Patrick's Day party on Sunday.
● Friday, March 15: 12th Annual St. Baldrick's Event – From 2:30 p.m. – 6:30 p.m., Fadó is hosting the family-friendly charity event to raise money for childhood cancer research. The restaurant sets up barber chairs and encourages "shavees" to commit having their heads shaved there on Friday, March 15. These "shavees" get family and friends to sponsor their head shave with monetary donations in order to raise funds for the St. Baldrick's Foundation. St. Baldrick's is a volunteer-driven charity committed to funding the most promising research to find cures for childhood cancers and giving survivors a chance long and healthy lives. As a company, Fadó has helped generate $700,000 in donations since 2004 and this year the Atlanta pub hopes to raise another $125,000.
● Saturday, March 16: "St. Practice Day" – Day one of the two-day festival begins at 10:30 a.m. for the exciting final round of the RBS 6 Nations Rugby tournament. Featuring a full day of matchups including Italy vs. Ireland, the pub grants rugby fans access to a reserved viewing area for all three of the day's matches. Starting at 6 p.m., the outdoor festival features traditional Irish rock music from Paddy & Marty, U2 cover band Desire and entertainment provided by Irish dancers. A DJ will spin tunes beginning at 10 p.m. Pre-sale tickets are available now online for $5 and $10 at the door.
● Sunday, March 17: St. Patrick's Day – The weeklong activities come to a festive finale on Sunday with the biggest celebration in Atlanta. Doors open at 7 a.m. so guests can show their Irish spirit all day long. The party moves outside at noon for a street festival featuring live music, traditional Irish dancers and bagpipers performing for the crowds. Desire, Andy Birdsall, Secret Sauce, and Astral Freaks (Van Morrison cover band) are all set to perform outside for eager partygoers. Pre-sale tickets, which sold out quickly last year, are available now online for $10 and tickets will also be sold for $15 at the door.
Guests can also purchase a two-day pass for Saturday and Sunday for $15 online.
Fadó is also offering guests who sign up for the newsletter a chance to win a four day, three night trip for two to Dublin, Ireland. The prize package includes airfare, hotel stay and a VIP tour of the Guinness Brewery at St. James Gate. The drawing will take place on Wednesday, March 20 and participants must be 21 and over to enter.
Fadó Irish Pub is located at 273 Buckhead Avenue in Atlanta. For more information about any of these events or how to purchase tickets, call (404) 841-0066 or visit fadoirishpub.com.
About Fadó Irish Pub
Fadó (pronounced fuh-doe) Irish Pub was the first Irish pub to be designed and constructed in Ireland and shipped and installed in Atlanta. Fadó is distinguished by its genuine Irish hospitality, quality of its pints and craic (pronounced 'crack', a uniquely Irish form of fun). Fadó has been voted 'Best Of' by a number of local and national publications. Get more information by visiting the pub's website, Facebook page or by following Fadó on Twitter and following the #stpatricksday2013 hashtag.