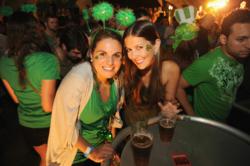 Denver, CO (PRWEB) March 05, 2013
For the 15th year Fadó Irish Pub & Restaurant, located in downtown Denver at 1735 19th St., will host The Lost Weekend, the largest outdoor St. Patrick's Day festival in Denver. Events are scheduled from Friday, March 15, through Sunday, March 17, for The Lost Weekend 2013.
The celebration includes a charity event for St. Baldrick's Foundation on Friday, March 15, Denver's largest outdoor party on March 16 during the 51st Annual Denver St. Patrick's Day Parade and a St. Patrick's Day party on March 17. The Lost Weekend features the best mix of Irish music, food and entertainment Denver has to offer.
Pre-sale tickets available online now.
Win a Trip for Two to Ireland
Fadó wants to send a lucky winner on a never-to-forgot trip to Ireland. It's a four-day and three-night trip to Dublin, Ireland including airfare, hotel and a VIP tour of the Guinness Brewery at St. James Gate. The drawing is on March 20, 2013 and entrants must be 21 or older to enter. Read the full terms and conditions here.
To enter, simply sign up for the Fadó newsletter.
The Lost Weekend 2013 Signature Events
Friday, March 15 – Charity Event, Bottomless Stella Happy Hour, Live Music
Doors are open to all ages at 10 a.m and a full menu is offered. After 5 p.m. the party is exclusively for those 21 years old and up.
St. Baldrick's Charity Event: 10 a.m. to 7 p.m.
Be a hero for kids with cancer. St. Baldrick's Foundation is the world's largest volunteer-driven fundraising event for childhood cancer research. Thousands of volunteers shave their heads in solidarity of children with cancer while requesting donations of support from friends and family. The goal this year is $240,000 and Fadó Irish Pub will donate 20 percent of all food sales during the event.
Nearly 400 people will have their heads shaved at the event at Fadó this year. Those shaving their heads will be enthusiastically cheered on by crowds of friends, family, doctors, nurses, children and others who have been touched by cancer in hopes to further awareness that pediatric cancer, the number one disease killer of children, is terribly under-funded.
Get involved and either shave your head, volunteer, eat or donate, but give hope to infants, children, teens and young adults fighting childhood cancers. Visit http://www.stbaldricks.org/events/mypage/132/2013 to learn how to be a shavee, support a team or donate in general.
Bottomless Stella Happy Hour Party: 5 p.m. to 9 p.m.
Enjoy bottomless glasses of Stella and enter to win prizes and giveaways. Nevermind the 90s takes the stage at 7 p.m. to rock guests down memory lane. Join us for a chance to win tickets to The Lost Weekend events and the sold out USA vs. Costa Rica game on March 22.
Kids being honored by the event:
Kohl B | Age 14 | Diagnosed September 2005 | In remission
Kohl was diagnosed with Ewings Sarcoma and it was all because of a football injury. Kohl took a hit from a football helmet to his right forearm. It just so happened that the helmet landed right on the tumor which caused it to swell up which lead to the diagnoses.
Kohl went through a bone transplant and a year's worth of chemotherapy and is now cancer free.
Justin M | Age 9 | Diagnosed September 2006 | In treatment
In 2006, doctors gave Justin a 30 percent chance of being alive in five years. Justin has proved them wrong. He was only three when he was diagnosed with neuroblastoma. Justin's family is in the process of determining his next course of treatment.
Justin's first choice of clothing is a suit which he says is "smart looking, classy and sophisticated." Six years after diagnosis and four relapses, he faces each challenge with a relentless determination.
Saturday, March 16 – 51st Annual Denver St. Patrick's Day Parade
Fadó Irish Pub is at the heart of the 51st Annual Denver St. Patrick's Day Parade route and doors open at 8 a.m. Start with a pint of the good stuff, a traditional Irish breakfast and a side of sports. Limited brunch menu until 11:30 a.m.
The doors to the parade day outdoor party open at 10 a.m. with a $15 cover charge. Family fun will be had until 4 p.m. with children's games and face painting. Starting at 4 p.m. only those 21 and older can participate in the festivities. The festival menu is available from 11:30 a.m. to 10 p.m.
At 10 a.m. rock out to the sounds of over 10 hours of local Irish music and entertainment featuring Brian & Brendan Clancy followed by Big Paddy, The Indulger's, Celtic Steps (Traditional Irish Dancers), That 80s Band and Under a Blood Red Sky.
Featured on the big screen will be 6 Nations Rugby with Italy vs. Ireland at 8:30 a.m., Wales vs. England at 11 a.m. and France vs. Scotland at 2 p.m. See http://www.fadoirishpub.com/denver/sports for a full televised sports schedule.
For ticket information and more detail, please visit http://www.tickethorse.com/Promotions.aspx?id=pq%2fKrSDjW%2b8%3d. A two-day pass is also available.
Fadó is using the hashtag #StPatricksDay2013 on Twitter.
Sunday, March 17 – 15th Annual Outdoor St. Patrick's Day Party
Doors open to Denver's biggest St. Patrick's Day party at 8 a.m. A limited brunch menu will be available until 11:30 a.m. The Lost Weekend outdoor party starts at 11 a.m. with live music from the Clancy's, Big Paddy, The Indulgers, Celtic Steps, and Under a Blood Red Sky. The festival menu is available from 11:30 a.m. to 10 p.m.
Fun for the entire family can be had from 11 a.m. to 4 p.m. and parents with kids can enjoy two for one covers. The event is 21 and up after 4 p.m.
There is a $10 cover charge and tickets can be purchased at http://www.fadoirishpub.com/denver/st-patricks-day-2013.
Other St. Patrick's Season Events Schedule
Sunday, March 10 – Pre-Paddy's Day Eurosport Weekend and Runnin' of the Green
Doors open at 8 a.m. for brunch and then the games begin with English Premier League Soccer action and live 6 Nations Rugby.
Colorado's 24th annual Runnin' of the Green starts at 10:15 a.m. just steps from Fadó Irish Pub. Proceeds go to Volunteers of America to help the very young, the homebound elderly and women and children that are victims of domestic violence. Refuel after Denver's classic Irish jog or watch and support participants from the patio.
Monday, March 11 – Pre-Paddy's Day traditional Irish Session
An Irish Session is an informal gathering at which people play traditional Irish music. The party starts at 8 p.m. and ends whenever the jiggin stops.
Wednesday, March 13 – Paddy's Day Pub Quiz
Test all your St. Patrick's Day and Irish trivia knowledge at our special pub quiz! Starts at 8 p.m. Great prizes up for grabs!
About Fadó Irish Pub and Restaurant
Fadó is an authentic Irish pub that was originally designed and built in Ireland and shipped to Denver. Fadó serves more Guinness than any other Irish pub in Denver, all of which is to the highest standards and comes straight from St. James Gate, Dublin, Ireland.
Fadó (pronounced fuh-doe) Irish Pub and Restaurant opened in Denver in 1998 and is distinguished by its genuine Irish hospitality, quality and craic (pronounced 'crack', a uniquely Irish form of fun). For more information:
http://www.fadoirishpub.com/denver/st-patricks-day-2013
http://www.facebook.com/FadoDenver
http://www.twitter.com/FadoDenver.