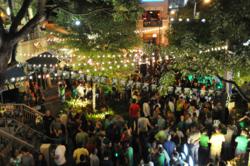 Miami, FL (PRWEB) March 14, 2013
Fadó Irish Pub (900 S. Miami Ave.) and Mary Brickell Village present Miami's largest outdoor St Patrick's Day Festival on Sunday, March 17. The event kicks off with Kegs and Eggs at 8 a.m. for those early risers that are looking to get the celebration started early.
The Miami St Patrick's Day Street Festival on March 17 will feature multiple outdoor beer gardens and cocktail bars, the Red Bull MXT 'Party in a Box' land cruiser, live music and entertainment all day and night, including UZoo, an authentic U2 tribute band, Irish bagpipers, Two Guys Live, and live DJ until close. There is no cover charge to participate in the outdoor festival. Food and drinks special, including big beers and shots, will be offered all day.
"Mary Brickell Village is the ultimate setting in Miami to Celebrate St. Patrick's Day- this event is always the talk of the Miami and Brickell. The festival literally wraps around the front of the pub into the streets and everyone has a fantastic time ", says Kevin Ellis, general manager of Fadó Irish Pub in Miami.
In addition to the Brickell Irish Pub Street Festival on the 17th, Fadó Irish Pub also celebrates the holiday with a series of action-packed daily events leading up to the big day:

Friday, March 15, 5 to 9 p.m. – "Lucky Pint" Night
Acoustic band Two Guys Live will be performing this evening where guests can win cash prizes and free passes to the St. Patrick's Day celebration.
Saturday, March 16, 10:30 a.m. to 4 a.m. – Saint Practice Day
Come in and watch "Super Saturday" over some pints and food as the Six Nations Rugby matches square off beginning at 10:30 a.m. Guests can also get a head start to St. Patrick's Day by enjoying live entertainment including UZoo, Two Guys Live and DJ BL Stylz from 6 p.m. to 4 a.m.; a $10 cover charge starts at 9 p.m. Sláinte!
For more information, please call Aileen at 786-924-0972 or visit the Miami St Patricks Day 2013 page at Lunch or dinner reservations can also be made via OpenTable at http://www.opentable.com.
About Fadó Irish Pub and Restaurant
Fadó (pronounced 'fuh-doe') Irish Pub and Restaurant was originally designed and built in Ireland and then shipped to Miami for construction. The establishment is distinguished by its genuine Irish hospitality, quality of its pints and craic (pronounced 'crack', a uniquely Irish form of fun). Fadó serves the highest quality pint of Guinness in all of Miami that comes straight from St. James Gate in Dublin, Ireland. For more information, visit http://www.fadoirishpub.com/miami/.
Join the Conversation
Follow Fadó Irish Pub & Restaurant on Facebook (http://www.facebook.com/fadomiami) and Twitter (https://twitter.com/fadomiami). We are also using the Twitter hashtag #StPatricksDay2013 to keep customers and their friends up to date on the latest happenings.