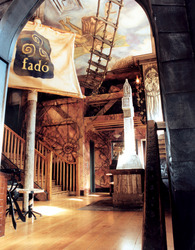 Chicago, IL (Vocus) February 25, 2010
Fadó Irish Pub and Restaurant, located in River North at 100 W. Grand Ave, is once again throwing the biggest St Patrick's Day party in Chicago. With a week long schedule of events planned, Fadó invites everyone to rally friends again this year and celebrate big. 'Session On' is a popular phrase in Ireland used amongst friends to describe that eager anticipation before a big day out at the pub. And, there is no bigger celebration at Fadó then St Patrick's Day. Session On
Friday, March 12th
Annual St Baldrick's Charity Event. Help shave the way to conquer childhood cancer. Event will be located on all 3 levels of Fado. Doors open at 10am. In celebration of giving back, the Morgan Fingleton Players perform live at 10pm. It'll be great craic for a great cause- whether you are being shaved or just watching.
Saturday, March 13th – St. Patrick's Parade in Chicago!
Pub opens at 7:30am. 21 and over to enter all day. Come early for a pint of the black stuff and a traditional Irish Breakfast. Live 6 Nations Rugby and all English Premier League soccer will be shown.
Live music starts at 12 noon and goes til late, kicking off with Nappertandy, a Celtic rock band followed by Shannon Rovers, traditional pipers and finally Diver, playing all of your favorite covers.
Sunday, March 14th
Another full day, if you dare! Fado opens early and will be showing live all the best English Premier League soccer matches (see website for details). France faces Ireland in a heated 6 Nations Rugby match at 9:30am. A traditional Irish Session (jam session) will be playing upstairs from 6pm until the jiggin' stops!
Tuesday, March 16th - Pour your own Pint Night!
On this night you are invited you to test your abilities and try to pour the perfect pint of Guinness or the newest import from Ireland, Kilkenny Irish Ale. Fado will be giving away commemorative Guinness glassware all evening long. 7:00pm start time.
Wednesday, March 17th - St Patrick's Day in Chicago
Fado opens at 9:30am, arrive before 4pm and beat the $10 cover charge, you must be 21 and over to enter after 4pm. Everyone can watch live the Champions League soccer games starting at 1:45pm and enjoy traditional Irish music by Donnybrook. Shannon Rovers kick off the evening's festivities and Nappertandy, a Celtic Rock band, keep the night going 'til late! The kitchen is open until 1am with a special St Patrick's Day menu.
Fadó is also using the hashtag #sessionon on Twitter to keep customers and their friends up to date.
Additionally, Fadó is making it easy to give friends a laugh on St. Patrick's Day with a new site- http://www.FadoIrishToast.com . Pick a toast, upload a picture, send it to a friend and toast away like a real Irishman.
Fadó is an authentic Irish pub- it was originally designed and built in Ireland and then shipped to Chicago. Parts of the pub were shipped from Ireland as well, including the bar on the second level; it was originally the main bar at the Purty Kitchen in Dublin. Fadó serves more Guinness than any other Irish pub in Chicago, all of which is to the highest standards. All of the Guinness at Fado comes straight from St James Gate, Dublin, Ireland.
To make it a true St. Patrick's Day in Chicago, Fadó will put special emphasis on proper Irish food and Irish drink. This season Fadó will launch Kilkenny Irish Ale to serve along with proper Irish coffees, Baileys Irish cream, and a wide selection of Irish whiskeys. All of the Fado Irish food recipes are prepared from scratch: the traditional Irish Boxty, Corned Beef and Cabbage, and the Irish pub favorite like Fish & Chips. Fadó spares no expense to bring its customers the best Guinness and Irish food in Chicago.
About Fadó Irish Pub and Restaurant
Fadó (pronounced fuh-doe) Irish Pub and Restaurant opened in Chicago in 1997. Fadó is distinguished by its genuine Irish hospitality, quality and craic (pronounced 'crack', a uniquely Irish form of fun).Fadó has been voted 'Best Of' by a number of local and national publications. Get more information at http://www.FadoIrishPub.com, on Facebook under 'Fado Chicago', or on Twitter @FadoChicago
###