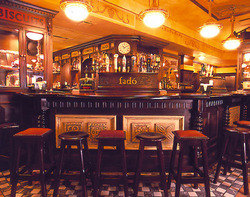 Friends of the Pub Pouring Contest
Philadelphia, PA (Vocus) February 24, 2010
Fadó Irish Pub and Restaurant located downtown at 1500 Locust in Center City is once again throwing the biggest St Patrick's Day party in Philadelphia. With a week long schedule of events planned Fadó invites everyone to rally friends again this year and celebrate big. 'Session On' is a popular phrase in Ireland used amongst friends to describe that eager anticipation before a big day out at the pub. And, there is no bigger celebration at Fadó then St Patrick's Day. Session On.
Wednesday, March 10th
Annual St Paddy's Day Pub Quiz. Join Rory & Toni for a special Paddy's Day themed Pub Quiz, featuring live Irish music from Pat's Head, Irish Dancers, and some great prizes. Starts at 8:00pm.
Thursday, March 11th
Join is for the "Irish for an Employee" fundraiser. Come down and bid on a group outing to see one of our home town sports teams with select Fadó employees. All money raised goes towards Friday's St Baldrick's Children's Cancer research fundraiser tally. The fun begins at 9pm.
Friday, March 12th
Beginning at 3pm it's the annual St Baldrick's Charity Event. This is shaping up to be the biggest event in the past 5 years. Staff, Friends of the Fado and others will be shaving their heads to raise money and awareness for Children's cancer research. Help Fado meet their $100,000 fund raising goal!
Saturday, March 13th
"Erin Express Day" is Philly's own new holiday. Join the crowds for 6 Nations Rugby in the morning and enjoy a day of drinking, dancing and celebrating everyone's ability to be Irish in March. See the website for match times.
Sunday, March 14th – Philadelphia St Patrick's Day Parade
Stop by the Fado before, during or after the parade and enjoy a pint of the black stuff and a traditional Irish breakfast. A day of family, friends and great live music.
Monday, March 15th
Philadelphia's "Guinness Pouring Contest" is at Fadó. Philadelphia's best bartenders will show off their skill and dedication by pouring the "perfect pint" while competing for major prizes and bragging rights. Start time 8pm.
Tuesday, March 16th
"Friends of the Pub Pouring Contest" - its 'the average Joe's' turn to learn to pour the perfect pint of Guinness. Start time 8pm.
Wednesday, March 17th - St Patrick's Day in Philadelphia
It's the annual Ancient Order of Hibernians (AOH) Pints and Pancakes kick off at 8am. Free pancakes and no cover before 11am. Live Music with Ireland's own Crazy Folkers all day. Traditional Irish Dancers, Pipers, and bagpipers until late in the evening.
Fadó is also using the hashtag #sessionon on Twitter to keep customers and their friends up to date. Additionally, Fadó is making it easy to give friends a laugh on St. Patrick's Day with a new site- http://www.FadóIrishToast.com . Pick a toast, upload a picture, send it to a friend and toast away like a real Irishman.
Fadó is an authentic Irish pub- it was originally designed and built in Ireland and then shipped to Philadelphia. Fadó serves the highest quality pint of Guinness in all of Philadelphia. All of the Guinness at Fado comes straight from St James Gate, Dublin, Ireland.
To make it a true St. Patrick's Day in Philadelphia, Fadó will put special emphasis on proper Irish food and Irish drink. This season Fadó will launch Kilkenny Irish Ale to serve along with proper Irish coffees, Baileys Irish cream, and a wide selection of Irish whiskeys. All of the Fado Irish food recipes are prepared from scratch: the traditional Irish Boxty, Corned Beef and Cabbage, and the Irish pub favorite like Fish & Chips. Fadó spares no expense to bring its customers the best Guinness and Irish food in Philadelphia.
About Fadó Irish Pub and Restaurant
Fadó (pronounced fuh-doe) Irish Pub and Restaurant originally opened in Philadelphia in 2001. Fadó is distinguished by its genuine Irish hospitality, quality and craic (pronounced 'crack', a uniquely Irish form of fun).Fadó has been voted 'Best Of' by a number of local and national publications. Get more information at http://www.FadoIrishPub.com/Philadelphia, http://www.facebook.com/FadoPhiladelphia, or on Twitter @FadoPhilly
###