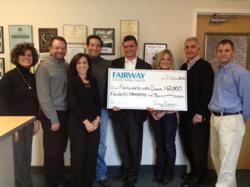 "Giving back is an important part of our commitment to housing families and building communities."
Needham, MA (PRWEB) January 08, 2013
Ten local organizations were surprised with donations of $1,000 each last week as Fairway Independent Mortgage(Needham) celebrated the holidays by giving back to the community.
In lieu of employee holiday gifts and bonuses, Branch Manager Amy Tierce gave a donation of $1,000 to the charity of choice for each individual loan officer. "Giving back is an important part of our commitment to housing families and building communities, and this has become a welcome annual tradition for us."
Donations are directed specifically to community based organizations where Fairway employees live with the goal being to have a greater impact on vital local service providers that often struggle to make ends meet.
Among the community based organizations receiving donations were:

West Side Benevolent Circle (Mansfield)-Provides clothing and gifts through holiday drive, along with rent, mortgage and utility assistance for over 300 families annually.
Natick Service Council, Brack Career Development Center (Natick)-A newer program of the NSC, provides a wide range of career training and development services along with one-on-one career coaching for adults. The NSC has seen a 7% increase in need across all of their programs in the last year.
Franklin Food Pantry (Franklin)-Provides 600 families with food and the need is growing weekly. Funds will go towards annual "12 Days of Donating" with the goal being to keep the pantry stocked through spring. Many of the recipients are working families who are struggling to make ends meet.
Cradles to Crayons (Boston)- provides children from birth to age 12, living in low- income and homeless situations, with the essential items they need to thrive - at home, at school and at play.
South End Youth Baseball (Boston)- Provides a comprehensive youth Baseball and Softball program to the South End community including Roxbury, Dorchester and Chinatown free of charge. All are welcome as the league has a "no cuts" policy and strives to teach the importance of teamwork, commitment, fair play and life lessons through sports.
Other donations were made to the Landmark School (Prides Crossing) working with children with language based learning disabilities, Jeff's Place (Wayland) providing free bereavement support for youth 3-18 and their caregivers, Cradles to Crayons (Boston) providing essentials to underserved children, Temple Ohabei Shalom's Annual Education Retreat, Rutland Youth Soccer and Plympton Elementary Schools Special Activities Fund.
In addition to these holiday donations, the branch has also provided support throughout the year for organizations working on housing related issues including: The Nazareth House in Roxbury, HomeStart Inc. Boston, ReBuilding Together Boston, along with donations to the Greater Boston Food Bank, Lupus Foundation of New England, Special Olympics of MA, MMBA Foundation, and the Cambridge Community of Realtors.
Fairway Independent Mortgage is located in Needham, MA, and is a branch of Fairway Independent Mortgage Corporation, one of the top 15 lenders in the country. Fairway's Needham office was started by Amy Tierce in 2006 and has grown to 29 employs including a satellite branch in Holden, MA. The Needham branch closed 400 million in loans in 2012 and has been the top producing Fairway branch nationwide for the last five years. We work with the top national and regional investors to provide our customers the best home loan rates and programs available, while still offering personal care to meet individual needs. To reach the Needham office, call 781-719-4664 or visit http://www.fairwayne.com.