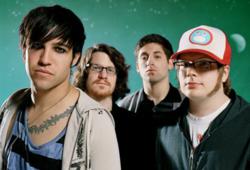 The most amazing show's
(PRWEB) March 03, 2013
Pop punk band Fall Out Boy took everyone by surprise on February 4, 2013 when they announced their unexpected reunion after several years. This was quickly followed by the release of a new single My Songs Know What You Did in the Dark (Light Em Up), the promise of a new album and a rocking comeback tour across the U.S. later this spring.
Fall Out Boy Tickets:http://www.doremitickets.com/Fall-Out-Boy-Tour-2013
Fall Out Boy Tour 2013 Dates Save Rock and Roll Tour Schedule;
May 14, 2013 The Rave - Milwaukee, Milwaukee, WI
May 16, 2013 Riviera Theatre - IL, Chicago, IL
May 17, 2013 Lifestyles Communities Pavilion, Columbus, OH
May 21, 2013 Stage AE, Pittsburgh, PA
May 22, 2013 The Fillmore - Detroit, Detroit, MI
May 24, 2013 Sound Academy - Toronto, Toronto, ONT
May 25, 2013 Metropolis - Montreal, Montreal, QUE
May 26, 2013 House Of Blues - Boston, Boston, MA
May 28, 2013 The Rapids Theatre, Niagara Falls, NY
May 29, 2013 Terminal 5, New York, NY
May 30, 2013 Electric Factory, Philadelphia, PA
June 1, 2013 The Fillmore - Charlotte, Charlotte, NC
June 2, 2013 The Tabernacle - GA, Atlanta, GA
June 4, 2013 House Of Blues - Orlando, Orlando, FL
June 5, 2013 The Fillmore Miami Beach At Jackie Gleason Theater, Miami Beach, FL
June 7, 2013 Bayou Music Center, Houston, TX
June 8, 2013 Palladium Ballroom - TX, Dallas, TX
June 9, 2013 Stubbs BBQ - Outdoor Stage, Austin, TX
June 13, 2013 The Wiltern, Los Angeles, CA
June 15, 2013 House Of Blues - Las Vegas, Las Vegas, NV
June 16, 2013 Fox Theater - Oakland, Oakland, CA
June 18, 2013 Roseland Theater, Portland, OR
June 19, 2013 Showbox SoDo, Seattle, WA
June 20, 2013 Commodore Ballroom, Vancouver, BC
June 22, 2013 In The Venue, Salt Lake City, UT
June 23, 2013 Ogden Theatre, Denver, CO
June 25, 2013 Uptown Theater - KC, Kansas City, MO
June 26, 2013 Myth, Saint Paul, MN
June 28, 2013 The Pageant, Saint Louis, MO
June 29, 2013 Egyptian Room At Old National Centre, Indianapolis, IN
June 30, 2013 Ryman Auditorium, Nashville, TN
The band was founded by guitarist Joe Trohman and bassist and lyricist Peter Wentz in 2001. They were soon joined by lead singer and composer Patrick Stump, and drummer Andy Hurley completed the foursome. They achieved large-scale fame in 2005 with their album From Under the Cork Tree, and the single Sugar, We're Goin Down went on to become their biggest hit.
In 2007, Fall Out Boy won the MTV Video Music Award for Best Group. They were actively involved in song-writing, recording and touring, but after their collaboration on the 2008 album Folie a Deux and their 2009 tour, they decided to indefinitely part ways to concentrate on their individual music careers. During this period, Stump released an album titled Soul Punk in 2011 and Wentz founded the band Black Cards. Trohman and Hurley set up a heavy metal band called The Damned Things.
But just about a fortnight ago, the Fall Out Boy members sent the public into a frenzy with their decision to make music together once again. Their exciting new album titled Save Rock N' Roll was slotted for release in May this year, but has now been brought forward to mid-April in a bid to please eager fans.
Fall Out Boy's 2013 U.S. tour is mainly planned for the promotion of this album, but their on-stage chemistry and high-energy concerts will render one hit after another from each the five albums they have released until now. The touring schedule begins on May 14 at the Rave in Milwaukee, Wisconsin. Fall Out Boy will travel through several cities in the U.S. and Canada, finally performing the closing show on June 30 at the Ryman Auditorium at Nashville, Tennessee. The band members thoroughly enjoyed the warm welcome their announcement received, and now look forward to the whole-hearted support of their fans on the upcoming tour.
Doremitickets.com Your #1 Source for Dates Fall Out Boys Tour 2013 Concert Tickets, Money Back Guarantee. Doremitickets.com is a retail website founded in 2009. Since launching in 2009, our website has helped connect thousands of live entertainment fans to the vast network of ticket brokers that list tickets on the doremitickets® Online Exchange. These professional ticket brokers offer more than 7.5 Million event tickets on our exchange every day.
Contact:
John Cruz
Email: info(at)doremitickets(dot)net
Website: http://www.doremitickets.com