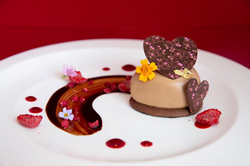 "Beautiful to look at and delicious to taste, our 2019 Chocolate Decadence has everything you need to steal someone's heart- just add champagne!"
AMELIA ISLAND, Fla. (PRWEB) January 15, 2019
The Ritz-Carlton, Amelia Island, the East Coast's premier luxury beach resort located on Florida's northeastern shore, is welcoming guests eager to experience romance this Valentine's Day. From escapist getaways that will always be remembered to intimate dinners and decadent spa treatments, you're sure to fall in love with our picks for Top Ten romantic experiences:
1. Valentine's Chocolate Decadence at The Ritz-Carlton, Amelia Island
Add a sweet spark to your Valentine's Day with Chocolate Decadence, a romantic dessert creation that teases the taste buds and delights the senses. An exquisite heart-shaped Caramélia mousse rests atop a chocolate-orange sable. A praline nestled inside the dessert provides a delicate crunch and a raspberry gelée surprises with a delightful kiss of fruit. Created by Ritz-Carlton, Amelia Island Executive Pastry Chef Sheldon Millett, its creator says, "Beautiful to look at and delicious to taste, our 2019 Chocolate Decadence has everything you need to steal someone's heart- just add champagne!" Romantics can enjoy this luscious dessert in the quiet nooks of The Lobby Bar from 6 p.m. until 9 p.m. on Thursday, February 14. Cost for the dessert is just $14. Add the Henriot Champagne pairing for an additional $48.
2. The Romance Package at The Ritz-Carlton, Amelia Island
Indulge your valentine with a memory that will last forever: The Romance Package from The Ritz-Carlton, Amelia Island. The romance starts with a welcome bottle of Champagne and chocolate-covered strawberries and a rose petal turndown on the evening of your arrival. This luxurious package includes daily breakfast for two in Coast or In-Room Dining (gratuity and tax not included; package includes daily valet parking and the luxury of a 2 p.m. late checkout). Romance Package rates begin at $519.
3. Romance Sizzles at Salt
Salt, the most romantic dinner setting in Florida, turns up the romantic heat with a Valentine-themed four-course prix-fixe Valentine's Adventure Menu designed by Salt Chef de Cuisine Rick Laughlin. Available Thursday, February 14th through Sunday, February 17th, romantics can linger over a dinner that includes seared Spanish turbot, grilled lamb chops and a luscious milk-chocolate mousse dessert. Sommelier-selected wine pairings are available. Salt will also be serving its sumptuous a la carte menu.
4. Valentine's Day in Coast
All the elements for a picture-perfect Valentine's Day are in Coast. Guests will savor four delicious courses and enjoy their choice of chef-prepared entrée including braised beef short rib with Key West prawns, grilled cobia, gnocchi in bourbon cream sauce or chicken breast with Tasso ham. A lavish dessert buffet is sure to delight every Valentine.
5. The Ritz-Carlton Spa®- Wrap Your Love in Chocolate
A Wrap to Remember will ensconce you and your Valentine in a private romantic couples' Spa suite with an aromatic soothing bath, side-by-side chocolate wrap, warm oil scalp massage and full-body massage. Exclusively at The Ritz-Carlton Spa, this luxe treatment leaves skin smooth and soft with just a hint of chocolate aroma, considered to be a natural aphrodisiac. Complete this one-of-a-kind experience with a complimentary bottle of champagne. A two hour and 30 minute treatment, call 904-277-1087 to wrap your love in chocolate.
6. Toast to True Love in The Lobby Bar
Celebrate the season of true love with a Red Velvet cocktail in The Lobby Bar. Crafted with Woodford Reserve, sweet vermouth and Aztec Chocolate Bitters, this luscious, crimson libation will leave you speechless. The Ritz-Carlton, Amelia Island also serves the decadent Ritz-Carlton Cake - a signature dessert only available at the resort. Elevate your Valentine's experience by reserving The Legends Table for the ultimate romantic memory.
7. Suites for Your Sweetie
Flowers are lovely, but nothing surpasses the experience of a luxury suite on Valentine's Day. Whether you choose the expansive charm of the Amelia Suite or the fireplace and private balconies of the Atlantic and Ritz-Carlton suites. With their sweeping Atlantic oceanfront vistas, you can be assured of the ultimate luxury setting for your own romantic journey. To elevate your experience even further, explore our hotel-within-a-hotel, The Ritz-Carlton Club® Level and its top-floor access to the finest.
8. Chef's Kitchen Table in Salt
The ultimate food-lover's gift, delight your partner with their own private Chef's Kitchen Table and Adventure Menu, paired with sommelier-selected wines in Salt. Chef Rick Laughlin can take a personal preference or theme and weave it into the romantic meal of a lifetime.
9. Kindle a Romantic Flame
Gentle and flickering, the light of a couple's fire in the dunes sets the mood for Valentine's season. Amidst the dramatic sounds of the ocean and the warm firelight, you draw each other closer. Fire in the dunes includes blankets, stargazer's map, binoculars, Chef Sheldon's famous hot chocolate and a s'mores kit. Two-hour reservations are available from 6 p.m. until 10 p.m. on Friday, Saturdays.
10. A Room with a View
A romantic retreat with an intimate terrace fire table can be yours when you book our coastal view
Fire Table Terrace rooms. The decadent experience of enjoying an ocean view and a crackling fire from your tub will spoil you completely. You may even decide that you never want to leave the comfort of your private terrace this Valentine's Day.
Reservations are recommended for all Valentine's experiences at The Ritz-Carlton, Amelia Island and can be made by calling toll-free1-800-241-3333 or 904-277-1100 and by visiting ritzcarlton.com/ameliaisland.
About The Ritz-Carlton, Amelia Island: The Ritz-Carlton, Amelia Island is Northeast Florida's premier oceanfront resort. Known for its unique natural beauty and warm Southern charm, this luxury resort is home to the award-winning restaurant, Salt, and The Ritz-Carlton Spa, Amelia Island, named one of the top spas in the world by the readers of Condé Nast Traveler. It is also the host of annual marquee events such as The Amelia Island Concours d'Elegance and The Amelia Island Wellness Festival. Featured amenities include three pools, on-site golf, fitness center, tennis, children's recreational programs, and 446 guest rooms, each with private balcony and a view of the Atlantic coastline. For reservations, please call The Ritz-Carlton toll-free at (800) 241-3333 or visit http://www.ritzcarlton.com/ameliaisland. For information on The Ritz-Carlton Company visit http://www.ritzcarlton.com.
The Ritz-Carlton Hotel Company, L.L.C., of Chevy Chase, MD., part of Marriott International, Inc., currently operates more than 100 hotels and over 45 residential properties in 30 countries and territories. For more information or reservations, visit the company web site at http://www.ritzcarlton.com, for the latest company updates, visit news.ritzcarlton.com and to join the live conversation, use #RCMemories and follow along on Facebook, Twitter, and Instagram. The Ritz-Carlton Hotel Company, L.L.C. is a wholly-owned subsidiary of Marriott International, Inc.). The Ritz-Carlton is proud to participate in the company's award-winning loyalty programs – Marriott Rewards®, The Ritz-Carlton Rewards®, and Starwood Preferred Guest® (SPG). The programs, operating under one set of unparalleled benefits, enable members to earn points toward free hotel stays, achieve Elite status faster than ever, and seamlessly book or redeem points for stays throughout our loyalty portfolio of 29 brands and more than 6,700 participating hotels in 130 countries & territories. To enroll for free or for more information about the programs, visit members.marriott.com.