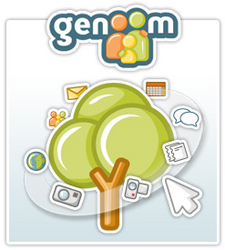 People researching their family history often desperately want a way to connect with the past
Barcelona, Spain (PRWEB) March 31, 2009
Family network, http://www.Genoom.com, is experiencing continued and significant growth as a family and genealogy-based social network, doubling its number of profiles in the last six months from 3 million to over 6 million. Those profiles, submitted by the network's users, are connecting family members from over 200 countries across the globe, in 17 languages.
"Genoom is different from other networks because we not only cater to a highly targeted audience of families looking to connect online, but we do so on a truly international basis," says Genoom CEO David Diaz Daré. "What sets Genoom apart is its phenomenal growth even though solely backed by a small team and seed funding. Rather than being built with extensive budgets, Genoom demonstrates that social networks can still be true to their roots. They can grow and thrive through word of mouth with an audience looking for real connections--in our case, families."
Families are actively taking advantage of Genoom's ability to keep them connected to relatives near and far. The more than 6 million profiles have been added by the network's growing user base, which recently hit a milestone of over 500,000 registered members. The international appeal is especially strong in Spanish-speaking nations, where Genoom has become a major family history reference resource. Genoom is currently the leader in family social networks in Spain.
"People researching their family history often desperately want a way to connect with the past," says Diaz Daré. "More general social networks don't really offer them the chance. The very broad user bases make searching for previously unknown family members difficult to say the least. There are simply too many users and no adequate search functionality to combine both research and networking. Genoom fills that void."
Genoom's developers haven't neglected the role more traditional social networks play in many people's lives. The introduction of a Facebook application towards the end of 2008 enabled members to access their Genoom family trees and communicate with those family members while logged directly into their Facebook accounts.
"Services like Genoom are really the future of social networking," says Diaz Daré. "Genoom doesn't try to be everything to everyone. Instead the company demonstrates that niche networks are a truly viable option in the industry. We're able to meet the needs of a specialized group of users, and we don't have to subject them to intrusive advertisements to do that. Instead Genoom is a good example of member-supported social networking through premium accounts with added features."
Premium members of Genoom's family network are able to upload larger quantities of photos, videos, and documents than members with free accounts. Premium users also have access to an integrated online image editor and priority support. ProSilver and ProGold accounts, $25 and $39 respectively, can also be given as gifts as a way to bring more people together online to connect and share their passion for their family's history.
About Genoom Network, S.L.
Genoom is a social networking platform designed to build private family networks. Launched in July 2007, the site already features support for users in 17 languages and includes a growing collection of over 6 million profiles. From centralizing current family connections to discovering and sharing ancestral information, Genoom offers users a secure, private, and interactive family networking environment on the Web.
For more information about the Genoom Network, please visit http://www.Genoom.com or contact Bob Samii at +34 93 206 18 48.
###