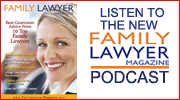 Toronto, Ontario (PRWEB) February 28, 2013
The Family Lawyer Magazine Podcast Channel mirrors the vision of the publication by offering relevant, topical, and expert-crafted content from a roster of contributors that includes judges, top family lawyers, mediators, financial specialists, business coaches, marketers, authors, and more. The podcasts are in-depth interviews with experts in their fields and are designed to help new and experienced family lawyers succeed both in and out of the courtroom, better serve their clients, and achieve their career and personal potential.
Each professional interviewed shares their experience on a broad range of subjects. We know as well as you do that family lawyers are people as well as professionals, and seek to open a window into the lives of those who work in high profile law.
"Our goal is to make our content even more accessible to our readers on the run, providing helpful information in the form of podcasts which can be listened to while driving or going about your day-to-day life. It's an efficient way for family lawyers to expand their knowledge," says Family Lawyer Magazine Publisher, Dan Couvrette.
Podcasts available on the Family Lawyer Magazine iTunes Channel cover a variety of topics, including:
-Apps for family lawyers
-Interviews with top judges
-Rainmaking
-Balancing work and personal life
-How technology can improve their law practice
-Increasing income and decreasing stress
-Making a difference in their community
FamilyLawyerMagazine.com was launched one year ago and features hundreds of pages of articles and resources for family lawyers. Access to the site is free, and no registration is required. Family lawyers and other divorce professionals are invited to visit the site to get informed, participate in polls and comment on our blogs and articles. They are also invited to submit articles to Family Lawyer Magazine by contacting our Editorial Director, Martha Chan: marthac(at)divorcemarketinggroup(dot)com.
About Family Lawyer Magazine
Family Lawyer Magazine is published by Divorce Marketing Group, the only marketing agency dedicated to helping family lawyers and divorce professionals grow their practice. We also own and publish Divorce Magazine and http://www.DivorceMagazine.com which help divorcing people achieve a peaceful divorce. Learn more at http://www.FamilyLawyerMagazine.com and DivorceMarketingGroup.com.
For more information, contact the Publisher Dan Couvrette at 1 866 803 6667 ext.124 or email Danc@divorcemarketinggroup.com.