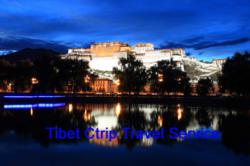 Visit top Tibet travel attractions with necessary Tibet travel permits!
(PRWEB) March 03, 2013
With so many famous cultural attractions in Tibet for visitors to choose, trying to narrow down a list of possible destinations to visit in Tibet in 2013 is tough. Tibet Ctrip Travel Service, a Lhasa based Tibet travel agency, has released a varied selection of 5 of the top destinations along with new suggestions on how to experience them like an insider:
→1 Lhasa and Around:
Travelers looking for a culture focused Tibet tour without sacrificing opportunities to see beautiful scenery, will want to spend most of their time in this region. The highlight Tibet attractions in this region includes Potala Palace, Jokhang Temple, Barkhor Bazaar, Sera and Drepung Monasteries in Lhasa, Ganden Monastery and nearby countryside villages to the east of Lhasa and Namtso which is about 250 km to the northwest of Lhasa.
→2 Tsetang and around:
Tsetang, in the center of the Yarlung valley between the Himalayan and Gangdise belts, is one of the largest cities in Tibet. Tsetang is 183 km southeast of Lhasa in Nedong County of Lhoka Prefecture, Tibet Autonomous Region of China (TAR). Tsetang has been the capital of Yarlung since ancient times and it was the seat of the ancient emperors of Tibet thus it played a big role in the history. In the 19th century it is said to have some 1,000 houses, a bazaar, a gompa and a fort. This tells why Tsetang is regarded as the cradle of Tibetan civilization. Tourists travelling in this region can take visit to Samye Monastery which is on the bank of Yarlung River, Yumbulagang known as Yungbulakang Palace, Tramdruk Monastery, and Chimpu hermitages. One of the highlights for visiting Tsetang is that tourists can have some unique hiking experience. With a beautiful hiking through the green bushes in the natural amphitheater valley, from the newly constructed Chimpu nunnery, tourists can start a short hiking through the solitary caves and tiny trail through the thorn bushes, then they can interact with devoted Yogis or Meditative Retreats in their caves, up from the terrace it offers a spectacular view of the Brahmaputra valley below. However to travel here, Tibet travel permits such as Alien's travel permit and Tibet entry permits are necessary.
→3 Shigatse and around-Central Tibet:
This area includes Lake Yamdrok, Gyantse, Shigatse, and Mt. Everest. This is a great stop for travelers focused on culture and landscape! Shigatse is home to Tashilhunpo Monastery, seat of the Panchen Lama and home to a towering statue of the Maitreya Buddha. The small town of Gyantse features fantastic Tibetan Buddhist art in Kumbum Pagoda and provides opportunities to learn about Buddhism in Pelkhor Monastery.
About 340 km to the southwest of Shigatse city is the famous attraction in Tibet, the Mt. Everest. This remote destination was once the reserve of few intrepid travelers. Improved tourist infrastructure makes standing at the base of the world's tallest mountain accessible to almost all travelers! The adventurous can even take a four day trek from inside Mt. Everest nature preserve all the way to base camp!
→4 Ngari and around-West Tibet:
Mt. Kailash is among the most sacred places on earth. It is the mother of all holy places, "Tirtha Sthaan", for followers of Lord Shiva, "Shiv-Bhakts". This holy mountain is to Hindus as Jokhang Temple is to Tibetan Buddhists or as Jerusalem is to followers of Christianity. The Mt. Kailash Yatra (ritual) is a pilgrimage undertaken by those wishing to purify their soul through peace with themselves and the world around them. Pilgrims will trek around the base of Mt. Kailash, while many take about three days; some devout pilgrims make the journey in one day. Tibetans who make this pilgrimage will leave behind an article of clothing, a lock of hair, or a stone to symbolize leaving behind prejudice and misperceptions of reality. No matter where travelers may come from, this is a journey where they can wash the soul of anger, anxiety, and ego.
→5 Nyingchi and around-East Tibet
This region of Tibet features towering mountains, alpine lakes, and Yarlung Zangbo Canyon, which is the world's deepest canyon. This part of Tibet is off the radar of most that travel Tibet and is great for getting in touch with nature. However, to travel in this region, more Tibet permits such as military travel permit, foreign affairs travel permit are necessary needed.
However as mentioned above, there are probably several restrictions for Tibet travel in different regions. Travelers are suggested to double check the Tibet travel permits and visa situation with local professional Tibet travel agent as they can tell whether the destinations of Mt. Everest base camp or Mt. Kailash or Kham etc are allowed in or not.
Tibetctrip.com is a local Tibet tourism agency committed to responsible tourism, travel permit and sustainable practice. Meanwhile they currently launched a Tibet travel blog site on which they will update more and more practical Tibet travel information with aim to help travelers discover Tibet through travel.