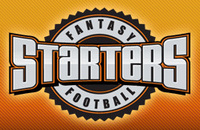 As fantasy football has become mainstream, more fans want the ability to view actual raw data unique to their leagues
Phoenix, Arizona (PRWEB) August 5, 2009
With more than 20 million NFL fantasy football fans preparing to tackle their NFL fantasy drafts, Fantasy Football Starters.com announced today it will extending its free fantasy football software offer for the entire 2009 NFL season. The website's Power Analyzer products and enhanced statistical data helps users determine the best fantasy football projections based on individual scoring systems.
What does all this mean to you, the fantasy football fan? For example, let's say you are playing in a league that scores touchdowns, yardage and points per receptions. The Power Analyzer's raw data feature may suggest you pick the Philadelphia Eagles' Michael Westbrook over the Atlanta Falcons' Michael Turner in the first round of your fantasy football draft -- or the tool may recommend you select Arizona Cardinals' Larry Fitzgerald over New England's Randy Moss as your first wide receiver pick. Either way, you're getting personalized recommendations based on detailed statistical analysis, taking into account your league's scoring rules.
"As fantasy football has become mainstream, more fans want the ability to view actual raw data unique to their leagues," says NFL fantasy football analyst Russ Bliss. "What makes our Draft Analyzer program unique to this industry is how it's been designed to use proven predictive-friendly statistical categories to set up both a Value Based Draft board and popular fantasy football rankings, such as tiers or cheat sheets."
Another feature the http://www.fantasyfootballstarters.com website uses is historical performance, player/team stats and forward-projecting stats derived from each NFL team's run-to-pass ratios.
"There are only a certain number of offensive plays a team will run in a year," Bliss explains. "Our Draft Analyzer recognizes each NFL team's stats, so the player projections conform to actual probable offensive statistics with appropriate run/pass ratios."
In addition to the Draft analyzer, the company has incorporated the statistical raw data feature into their signature offering -- the Line-up Analyzer -- which is the industry's first and most accurate fantasy football tool for projecting players to start from any type of fantasy football roster. Other Power Analyzer benefits include:

Mock Draft Software - Fans can practice their drafting skills against other players and/or computerized mock draft experts anytime through public and private fantasy football drafts.
SMART Alerts: Personalized player alerts sent twice weekly on sleepers to draft, players to pick-up (or avoid) starting in season, due to last minute game time decisions.
Mobile Line-up Analyzer: On-demand predictions from your mobile phone on any of your fantasy football rosters, anytime/anywhere.
NFL Game Predictions: Weekly game predictions on each and every NFL game throughout the entire NFL season.
The popular fantasy football projections website has plans to roll out additional new products and features leading up to the start of the 2009 NFL season. Introducing the new raw data analysis feature was the company's first priority this year.
"Soon we will announce details on a new partnership and free fantasy football weekly contest that will give our customers more fun and opportunity to enjoy the NFL fantasy experience," says Jeff Coruccini, the company's President and CEO. "It's a great time to be an NFL fan and we want to continue our reputation for providing the best free fantasy football software and community on the planet!"
Fantasy Football Starters is owned and operated by Ready-Set-Go Fantasy Sports (RSGFS), a new media digital sports content provider based in Phoenix, Arizona. Founded in 2004, RSGFS has also delivered premium fantasy content via licensing agreements with business partners including NFL PLAYERS INC., Sprint/Nextel and others.
###