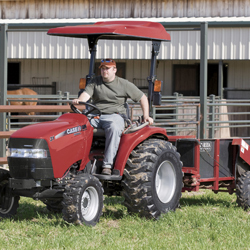 Customers can get a new Case IH Farmall tractor that packs as much horsepower as those original Farmalls
Racine, WI (PRWEB) July 25, 2008
America's favorite tractor is celebrating 85 years of providing rugged performance and value to farmers. "The first Farmall tractors were introduced in 1923, and they quickly put a lot of horses out of work," says Shawn Boone, manager of livestock marketing for Case IH.
Although they were called Farmall Regular tractors, they had a revolutionary narrow design and higher ground clearance, which allowed farmers to put it to work in taller row-crops without pushing down plants.
"In addition, the original Farmall Regular design allowed implements to be mounted fore and aft, further expanding its versatility," Boone adds. "These innovative features, combined with a broad dealer network, enabled the Farmall Regular to quickly become the tractor of choice for progressive farmers throughout North America."
A larger lineup of Farmall tractors
In honor of Farmall's 85-year anniversary, Case IH is expanding the Farmall tractor lineup with new utility and mid-range models, with PTO horsepower ratings up to 90 hp. "Customers can get a new Case IH Farmall tractor that packs as much horsepower as those original Farmalls," Boone says.
The full Case IH Farmall lineup includes 20 models, with configurations ranging from compact straddle mount models to platform models with cab or ROPS options. "Whether you're in the market for a simple, reliable compact tractor or a high-end, high-horsepower model with all the bells and whistles, there's a Farmall for you," Boone says. "It's one of the most famous names in the history of tractors and Case IH is committed to upholding Farmall's reputation for power, versatility and ingenious engineering."
2008 Farmall compact tractor upgrades
Other improvements in 2008 include an upgraded Case IH Farmall compact line-up. All Farmall compact tractors are now equipped with a fuel efficient, clean burning Tier 3-compliant engine and MFD. Customers can choose from hydrostatic, synchro or power-shuttle transmissions, depending on the model.
Case IH also simplified the Farmall naming system. "We dropped the D, DX and JX letter naming conventions, and kept the number, which corresponds to horsepower," says Boone.
In 2008, five Class 2 and Class 3 Farmall compact models are available with PTO horsepower ranging from 25 to 43:

Farmall 31 - formerly the DX31 - with 31 hp
Farmall 35 - formerly the DX34 - with 35 hp
Farmall 40 - formerly the DX40 - with 40 hp
Farmall 45 - formerly the DX45 - with 45 hp
Farmall 50 - new in 2008 - with 50 hp
There also are two Class 4 Farmall models with PTO hp ratings of 47 and 51 respectively:

The Farmall 55 - formerly the DX55 - with 55 hp
The Farmall 60 - formerly the DX60 - with 60 hp
"From homeowners with large lawns to livestock operations to all-around farm use, from grading to hay production to material handling, we have a Case IH Farmall available, ready to tackle any job," says Boone. "That's what originally made them famous, and why Farmalls remain popular today."
An abridged history of Farmall
After their successful roll-out in the 1920s, the first Farmall Regular tractors were replaced in 1932 by F Series Farmalls, with their powerful four-cylinder engines. The famous "Harvester Red #50" paint was introduced in 1936 to make the tractors more visible to motorists on country rounds.
In 1939, the F Series Farmalls were replaced with different letter series - including A's, B's, H's and M's - along with "modern" styling. More than 390,000 Farmall H tractors were produced, ranking it as the top-selling Farmall of all time.
The letter series gave way to the number series in 1954, with the Farmall 100, 200, 300 and 400. The Farmall name continued into 1973.
Then in 2003, Case IH reintroduced the legendary Farmall name on a line of compact Case IH tractors worthy of their namesake. The compact tractors were chosen to carry the Farmall name because of their strong, simple design and ability to handle all tasks on small farms and fill key roles on larger farms.
"Today, 85 years later, Farmall tractors still represent rock-solid value, versatility and performance," Boone says. "And as their name implies, Farmalls are still sized to do it 'all' around the home, farm or livestock operation reliably, comfortably and economically."
Case IH is a global leader in agricultural equipment, committed to collaborating with its customers to develop the most powerful, productive, reliable equipment - for those who demand more. With headquarters in the United States, Case IH has a network of dealers and distributors that operates in over 160 countries. Case IH provides agricultural equipment systems, flexible financial service offerings and parts and service support for professional farmers and commercial operators through a dedicated network of professional dealers and distributors. Productivity enhancing products include tractors; combines and harvesters; hay and forage equipment; tillage tools; planting and seeding systems; sprayers and applicators; and site-specific farming tools. Case IH is a brand of CNH (NYSE: CNH), a majority-owned subsidiary of Fiat Group (FIA: MI).
For more information, call 1-877-4CASEIH or visit us on the World Wide Web at http://www.caseih.com/na.
###