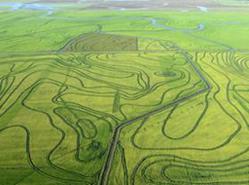 All the world's great wars of the next 50 years will be fought over three things: food, water and energy. We're buying the fertile, well-watered farmland of stable countries in Latin America. -Steve Ross, CEO. PanAm Terra.
Oceanside, CA (PRWEB) November 25, 2012
Mickelson Capital Consulting (Mickelson Capital) has been retained by Miami based PanAm Terra (PanAm Terra) to assist in the structuring of a vehicle that will provide qualified investors exposure to South American farmland assets. Farmland has historically proven an attractive asset for investors. With global population exploding and arable land a finite resource, the supply and demand dynamics continue to be favorable.
Latin America is projected to be the fastest growing agro-production region in the world. PanAm Terra aims to purchase over 20,000 hectares of productive farmland in Uruguay, Argentina, Paraguay and Brazil ("MERCOSUR" region) over the next two years. MERCOSUR Countries represent 50% of world soybean production, 22% of world beef production and 10% of world corn production. PanAm Terra has established a management team of agricultural professionals with extensive experience acquiring and managing farmland in the MERCOSUR region. PanAm Terra has retained Mickelson Capital Consulting. (http://www.mickcap.com) a California based strategic consulting firm to assist PanAm Terra with financial structuring and strategic planning.
Howard Freedland, CFA. Mickelson Capital's Chief Investment Officer commented "I can't imagine a more attractive asset to own than farmland in these highly uncertain times. I have been a proponent of investing in US farmland since 1994 but it is reaching bubble proportions. South American farmland is earlier in the cycle with attractive investment characteristics but there are few pooled vehicles available to US investors."
PanAm Terra plans to create one of the only pooled vehicles through which qualified investors can gain exposure to a diversified portfolio of productive South American farmland. The initial focus will be in Uruguay which is a prolific agricultural exporter and is one of the American Continent's most stable economies with a 200 year democratic tradition and a favorable environment for foreign investment.
About Mickelson Capital Consulting
Mickelson Capital Consulting, Inc. (http://www.mickcap.com) is a boutique strategic consultancy and a California Registered Investment Advisor. The Company works with corporations and individuals and is focused on developing bespoke solutions to the strategic and financial challenges of their clients.
About PanAm Terra, Inc.
PanAm Terra, Inc (PanAm) is a US corporation dedicated to creating and managing a vehicle for institutional investment in South American farmland assets. The company seeks to provide investors a secured opportunity to participate in global agricultural trends including; long term asset appreciation, Current yield through lease income and minimal operating risk. As an asset class the company believes agricultural land may deliver portfolio diversification with superior risk adjusted returns and hedge against macro-economic risks such as inflation and market cycles.
Contact:
Simon Leach
Chief Operating Officer
Mickelson Capital Consulting
(760) 444-5011
sleach(at)mickcap(dot)com
http://www.mickcap.com
# # #