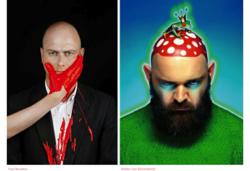 With over thirty years of success, these artists and designers are fantastic role models.
Los Angeles, CA (PRWEB) March 19, 2013
Otis College of Art and Design and LACMA's Costume and Textiles Department will present a special evening with eminent Antwerp artists – fashion designer Walter Van Beirendonck and graphic designer Paul Boudens – Wednesday, March 27, 2013 at the Los Angeles County Museum of Art. The duo has inspired a generation of designers and continues to redefine the boundaries of fashion and design with their groundbreaking iconic work.
Walter Van Beirendonck studied fashion at the Royal Academy of Fine Arts in Antwerp before showing his first collection in 1983 as part of the legendary 'Antwerp Six' (with Dirk Van Saene, Dries Van Noten, Dirk Bikkembergs, Ann Demeulemeester, and Marina Yee). Since his 1987 breakthrough at the British Designer Show in London, Walter Van Beirendonck has continued to challenge conventional fashion trends with his distinctive vision inspired by the visual arts, literature, nature, ethnic traditions, and underground subcultures. A visionary designer, Beirendonck explores provocative social and environmental issues with edgy exuberance and optimism, characteristically using masterful color combinations, futuristic themes, and strong graphic elements in his collections.
Graphic designer Paul Boudens has collaborated with Walter Van Beirendonck to critical acclaim for three decades. A graduate of Sint-Lucaspaviljoen in Antwerp, his graphic work transcends the computer, employing various techniques that include the use of materials, hand-drawn elements, and experiments with paint, stencils, and collage. Boudens has created graphic work for Dries Van Noten, Olivier Theyskens, Yohji Yamamoto, and Haider Ackermann, among others.
Walter Van Beirendonck and Paul Boudens will join fellow Antwerp luminaries to participate in department conversations and studio visits with Otis College of Art and Design students. Along with stylist, Inge Grognard, fashion photographer Ronald Stoops, and fashion designer/artist Dirk van Saene, they will discuss their work and demonstrate the power of collaboration.
"This is a wonderful opportunity for students to learn collaborative methods," says Kali Nikitas, Chair of Otis' Communication Arts and MFA Graphic Design departments. "At Otis, students are encouraged to broaden their scope. With over thirty years of success, these artists and designers are fantastic role models."
Otis College of Art and Design hosts an annual Graduate Graphic Design Symposium in which international artists and designers share their work with the Los Angeles design community.
ABOUT OTIS COLLEGE OF ART AND DESIGN
Founded in Los Angeles in 1918, Otis College of Art and Design prepares diverse students of art and design to enrich the world through their creativity, their skill, and their vision. The College offers an interdisciplinary education for 1200 full-time students, awarding BFA degrees in Advertising, Architecture/Landscape/Interiors, Digital Media, Fashion Design, Illustration, Graphic Design, Product Design, Painting, Photography, Sculpture/New Genres, and Toy Design; and MFA degrees in Fine Arts, Graphic Design, Public Practice, and Writing. Continuing Education offers certificate programs as well as personal and professional development courses. Additional information is available at http://www.otis.edu.
EVENT DETAILS:
Walter Van Beirendonck and Paul Boudens in conversation with Curator Kaye D. Spilker
Wednesday, March 27, 2013 at 7 PM
Bing theater | LACMA
Reception to Follow
Free for Costume Council Members
RSVP to costumecouncil(at)lacma(dot)org, or call 323 857-6555 by March 22
RSVP Required
$35 General Admission
For tickets, contact the LACMA Ticket Office at 323 857-6010
Complimentary parking is available in the lot at the corner of Wilshire Blvd. and Spaulding Ave. Additional parking is available in the Pritzker parking garage on 6th street just east of Fairfax Ave.