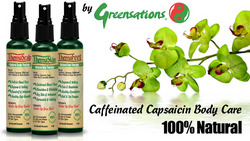 ThermaSkin uses a low dose of natural capsaicin to prevent and relieve the itching and irritation caused by the processed fabrics used in clothing.
Schenectady, NY (PRWEB) January 20, 2010
Ever bought new clothes that feel itchy? It's well known that certain fabrics can cause discomfort, itching and irritation in pants and shirts. Most itchy clothing conditions create irritation on the legs, chest and back - a syndrome known as Pants Paresthesia. This syndrome generally occurs from clothes made of fabrics other than cotton. Some people describe this feeling as the sensation of ants crawling on their skin and for many, this condition lasts for months until the fabric is washed numerous times. Fashion experts and clothing designers believe formaldehyde and other resins used in textile finishing might be responsible for this widespread syndrome, but so far there's been no real solution for the world's fashion bugs.
A new product from Greensations is purported to prevent and relieve itchy clothing syndrome thanks to the power of a natural hot pepper extract known as Capsaicin. While most people use capsaicin as a topical pain reliever in high doses, Greensations has created a mild formulation that can be applied to the skin as an anti-itch spray with no burning sensation.
"By incorporating small doses of capsaicin into a water based spray, we've come up with a way to stop itching on contact without the burning sensation generally associated with hot peppers. Small doses of capsaicin actually turn off the itch gene to alleviate topical allergic reactions that cause irritation, itching and general discomfort for a variety of common skin conditions. The chemicals used to manufacture fabrics cause topical allergic reactions until those chemicals are eventually evaporated by repeated washing, but our ThermaSkin spray counteracts these chemicals to prevent and relieve irritation on contact," says Niles Porter, Director of Sales for Greensations.
In addition, detergents and chemicals used to wash and dry clean clothes can also cause topical irritation. According to Mr. Porter, Greensations ThermaSkin spray can be applied directly on clothing to prevent allergic reactions from the chemicals used to clean clothes.
"ThermaSkin is all natural and non-staining. So it can be sprayed directly on clothing to counteract the harmful chemicals that cause irritation. Many of our customers spray their clothing before putting them on their bodies and the results are immediate. You can also spray ThermaSkin on clothes before putting them in the dryer to help condition fabrics more quickly than normal washing. Since ThermaSkin is all natural, it's also safe to spray on baby clothes," adds Porter.
Aside from their present line of skin care products, Greensations is also working on a formulation that can be incorporated directly into the manufacturing process of textile finishing to create an anti-itch barrier in a variety of fabrics, as well as an additive that can be used during the washing cycle. For more information, visit the official Greensations website.
###