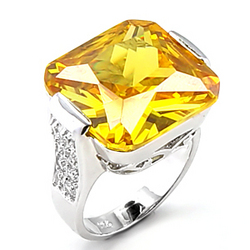 City of Industry, CA (PRWEB) July 11, 2008
Fashion jewelry is the perfect accessory for any summer outfit. Feel fabulous all season long with online fashion jewelry retailer Eternal Sparkles' wide collection of fashion rings, CZ jewelry, and sterling silver jewelry. Constantly updating its fashion jewelry pieces to suit the current trend of the season, Eternal Sparkles guarantees that one will find the right fashion jewelry for whatever season and reason.
This summer's hottest trends in fashion jewelry call for big, bold, and beautiful. The chunkier and more noticeable the fashion jewelry is, the better. However, not all chunky fashion jewelry is considered hot this season. If the color is not right, that fashion jewelry piece may be the culprit in ruining the entire outfit.
Opt for fashion jewelry pieces in the hues yellows, blues, purples, and greens. These are the top summer's hottest picks. With Eternal Sparkles' wide array of fashion jewelry line, fashion rings, CZ jewelry, and sterling silver jewelry in all the right colors will not be difficult to find.
As a fitting tribute to women who want to be in style all summer long, Eternal Sparkles is offering a 20% discount on all fashion jewelry pieces purchased at their web store. Simply key in the coupon code ESC80613 to avail of this special summer promotion. What's more, free ground shipping is offered for orders more than $50!
This is only the beginning of Eternal Sparkles' long line of exciting offers. To be the first to know about these, join the company's mailing list and receive first hand information on invaluable discounts, promotions, and freebies.
To know more about how to make fashion jewelry last for a long time, visit EternalSparkles' tips on caring for fashion jewelry.
About EternalSparkles.com
The City of Industry in sunny California is home to Eternalsparkles.com, an online fashion jewelry store that specializes in cocktail jewelry such as cubic zirconia, sterling silver jewelry, and swarovski jewelry. The company has a wide selection of fashion jewelry including fashion rings, CZ jewelry, sterling silver jewelry, bracelets, bangles, pendants, brooches, necklaces, and earrings. Fashion jewelry is sold at a wholesale price with a lifetime warranty. New styles of fashion jewelry arrive weekly.
###