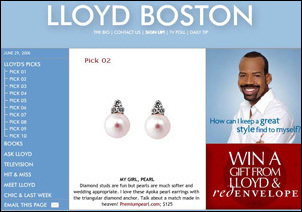 San Francisco, CA (PRWEB) July 26, 2006
PremiumPearl.com, the leading San Francisco-based online seller of pearls, is thrilled to have its jewelry named a "Top Pick" by renowned television fashion stylist, Lloyd Boston. Boston chose one of Premium Pearl's Akoya earrings, describing them as "soft and wedding appropriate."
Yan Berry, creative director at PremiumPearl.com, says "I've always had tremendous respect for Lloyd Boston. His sense of style is impeccable and we are thrilled to have our jewelry represented on his site."
The earrings Boston selected are from Premium Pearl's Akoya collection. Berry, who flies around the world to personally choose all of her company's pearls, says that the Akoyas typically come from Japan and are available in many different hues and sizes.
She says, "The ones Lloyd picked have diamonds in the settings and really are lovely--perfect for special occasions."
To see the pair of Akoya earrings Lloyd Boston selected, see http://www.premiumpearl.com/akoya-pearl-earrings-2550.html. Lloyd Boston's site can be viewed at http://www.lloydboston.com.
About Premiumpearl.com:
Premiumpearl.com is a leading online provider of quality pearl jewelry. For more information, please visit us at http://www.premiumpearl.com.
# # #