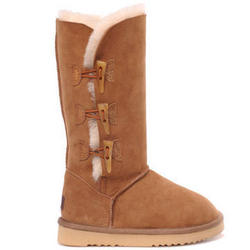 We will never sell a pair of shoes which our staff won't wear.
Albany, NY (Vocus) October 22, 2010
Recently, the promising internet solutions provider Abizark has launched a new online store, Amberette.com, whose main products cover sheepskin boots, snow boots and knit boots.
Founded in 2010, Amberette decides to deliver a superior online shopping experience and the latest fashion concepts to customers from all over the world persistently which is powered by their passion for fashion and beauty.
"We will never sell a pair of shoes which our staff won't wear." Said Colin David, the marketing manager of Abizark, "We are familiar with each of our products as if they were our own kids, thus we could provide the most professional and appropriate advice to our customers."
The website of this newly-born brand appears in a neat and friendly form. The designing of the website is inspired by the fashion elements of their snow boots: neat stitches are used as borders; sand-colored background reminds every visitor of popular snow boots and between every frame images of wool and cashmere are filled.
According to the introductions on the website, every pair of snow boots sold are "made from Grade-A sheepskin", thus "the eleven styles of supple boots all share great air permeability and insulation against cold with over 1.5cm thick soft lining".
What cannot be ignored is customers can enjoy attractive discounts up to 30% now on Amberette.com. The sale is aimed at 2010 Thanksgiving Day and starts from Oct. 21st while ends on Nov. 25th.
Reliable quality, competitive prices and superior services are the eternal facts of success for any online brands. These words are heard everywhere however few of shops could make them reality. There's still a long journey before Amberette.com can achieve its goals and take the leading place in snow boots market. No matter how Amberette.com performs, the market will draw its own conclusion in the future.
To experience Amberette's products and services, please visit the following link: http://www.amberette.com/
About Amberette
Amberette is a China-based manufacturer of Grade-A sheepskin boots in latest designs and at the most reasonable price. We provide a variety of boots, including Classic Tall, Classic Short, Classic Mini varying in boot shaft height and weight, Baily button series and Knightsbridge series.
# # #