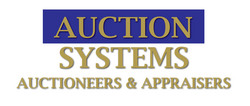 Auction Systems is very excited to begin our live fast cash auctions
Phoenix, AZ (PRWEB) April 22, 2010
Live fast cash auctions will be hosted weekly by Auction Systems Auctioneers & Appraisers, Inc. starting May 3, 2010.
These fast cash auctions will be a kick back to auctions of the past. They will offer individuals the opportunity to bring in items on the day of the auction, have them previewed by interested buyers and receive payment for items sold on the same day.
"Auction Systems is very excited to begin our live fast cash auctions," said Deb Weidenhamer, CEO of Auction Systems Auctioneers & Appraisers, Inc. "They will provide individuals, who are looking to make some quick cash, the opportunity to have their valuables presented to a diverse group of interested buyers and receive the highest dollar for their item or items on the same day."
Auction Systems will be inviting any individual who is interested in selling their valuables at a fast cash auction to participate. Participants will simply have to choose an auction date and bring in their items. These items will then be available to be previewed by Auction Systems' diverse group of buyers.
These fast cash auctions will begin Monday, May 3, 2010 at Auction Systems located at 951 W. Watkins on I-17, exit 7th Avenue in Phoenix, AZ, and will be held weekly. Auctions will be held Monday nights at 5:30 p.m. Prospective sellers will be invited to bring in their items Sunday from 12 p.m. to 4 p.m. and Monday from 8 a.m. to 1 p.m. Items will then be available for preview on Mondays from 1 p.m. to 5:30 p.m.
Visit Auction Systems' website for more information about fast cash auctions and the other live Phoenix auctions.
About Auction Systems Auctioneers & Appraisers, Inc.
Auction Systems Auctioneers & Appraisers, Inc. is the Southwest's most active auction and appraisal company. Auction Systems features live and live simulcast auctions and appraisals of stolen and confiscated Police and personal product including cars, tools, electronics, jewelry, sporting, coins and surplus, as well as auctions of commercial and heavy equipment, real estate, antiques, guns, estate and business liquidation and bankruptcy.
Based in Phoenix, Arizona, and an INC. 500 company, Auction Systems is one of the fastest growing privately held companies within the United States. Additionally, Auction Systems is an ICIC INC. 100 company and is ranked as the #1 fastest growing woman-owned business and the fifteenth fastest growing business overall within the inner cities of the United States.
# # #