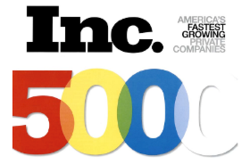 This designation is an honor and one that reflects our ongoing leadership in the rapidly expanding IT services sector
Chantilly, VA (PRWEB) September 17, 2012
With a three-year comprehensive growth rate of 150%+ per year, Mvix checked in at the top 1/3rd of the exhaustive list of the country's most promising businesses. Since its founding in 2005, Mvix has hired more than 30 employees, adding two-thirds of those new hires in the past three years alone. With its R&D center in India and a corporate office in US, it has expanded its customer base to all corners of the world including Australia, Canada, S. Korea, Singapore, Malaysia, Italy, Spain, France, South Africa, India, Pakistan, Mexico, Brazil, Venezuela, Peru, Switzerland, Saudi Arabia, Kuwait, UK and United States.
"Because of this remarkable growth Mvix has experienced, we are pleased to announce our ranking in this year's INC 5000 list," said Ross McClymonds, Vice President of Global Sales for Mvix. "Our company strives to produce and install high-quality systems with unmatched technological and customer support. This designation is an honor and one that reflects our ongoing leadership in the rapidly expanding IT services sector."
A member of Digital ScreenMedia Association, Mvix is the market leader in AV technology and products for high-definition digital signage systems, video-wall appliances, interactive digital kiosk systems, and cloud-based content management systems. The company specializes in an elaborate array of devices for digital playback of HD (1080p) video content and distribution, network streaming, NAS media storage, and IP service integration. Mvix products encompass a wide spectrum of price and functionality: from individual,low-cost digital signage systems to comprehensive turnkey packages for enterprise-scale installations, and serve clients ranging from private corporations to universities, healthcare institutions, small business retailers, and banks. Mvix has pioneered the industry by providing web-based (cloud) digital signage software free of any paid contract or subscription obligations.
Adopters of Mvix's digital signage technology include household names such as Verizon, Sprint, Papa John's, Merck, FEMA and the Pro Football Hall of Fame, but the company has also been able to cater to smaller enterprises with its embrace of cost and contract-free content management systems, allowing more businesses and organizations to realize the benefits of networked digital signage, which helps users improve their internal and external communications. The broad applicability of the company's technology, and its diverse client base, has helped make the business a success, said McClymonds.
"The INC5000 is an account of the most impressive and rapidly expanding companies in the country. It's a veritable who's who of businesses that have not only accomplished a great deal already but also carry significant potential for sustained growth moving forward. We definitely feel we belong on this list, and look forward to continued success down the road."
About MVIX(USA), Inc.
Started in 2005, Mvix's core team consists of hardware and software engineers and AV experts who build and support custom solutions for commercial clients. Since its inception, Mvix's commitment to delivering innovative solutions has put the company at the forefront of the digital display system and digital entertainment industries. With a steady stream of products and innovations driven by new feature adoptions and quality benchmarks, Mvix is committed to its role as a leader in the digital community. Ultimately, Mvix caters to customers who value quality, style, and a technology-enabled lifestyle. Read more about Mvix Digital Signage Systems: http://www.mvixdigitalsignage.com