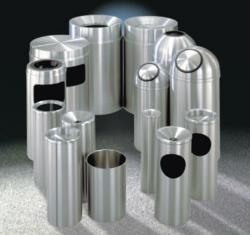 Glaro Inc. remains the number one innovator, manufacturer and promoter of satin aluminum finishes for the commercial markets since 1945.
Hauppauge, NY (PRWEB) March 26, 2013
This month, receptacles manufacturer Glaro Inc. announces one of the largest varieties of designer powder coat finishes and metal finishes ever offered to facility owners and managers in the United States.
Glaro Inc.'s finishes on waste receptacles and recycling receptacles includes 31 total finish colors, and an infinite number of color combinations available to customers looking to contrast or match receptacle covers with bodies. A popular combination is to use a satin aluminum or satin brass cover with a powder coated body. The contrast is stunning! Unique in the market, Glaro Inc. is able to provide unparalleled variety, shipping speed and versatility of finishes. Every interior design theme can have matching or coordinated receptacles by working with the Glaro line. Seasoned customer service professionals, at Glaro Inc., know how to help customers select the right product for them.
The company shared its three main types of weather proof designer architectural colors, all of which are ideal for indoor and outdoor use:
First, smooth finishes such as metal and powder coat colors and textured finishes including powder coat stone and veined finishes such as bronze vein, silver vein and copper vein are available.
Second, for facility owner's who would like to simulate a metal finish, nickel, silver metallic, pewter, light bronze, cooper bronze and aged bronze are popular.
Third, customers looking for a stone finish often order receptacles with attractive finishes such as desert stone, granite, green marble, and blue marble.
In an interview, Executive Vice President Robert Betensky added, "We also have 'all metal' finishes such as sleek and contemporary satin aluminum as well as a more regal tarnish proof satin brass. Metal finishes come with some unique benefits. For example, satin aluminum waste receptacles are stain and weather resistant. They are the easiest finishes to keep bright and cleaning looking. They will also not streak and show finger prints like stainless steel which is darker and drabber looking." Glaro Inc. remains the number one innovator, manufacturer, and promoter of satin aluminum finishes for the commercial markets since 1945.
Beyond finishes, customers can add custom logos and messages onto waste and recycling receptacles too. "The result is a truly customized receptacle unique to your location that arrives quickly. We also go through great lengths to make sure that the shipping method used is the most cost effective method possible for each order," mentioned Plant Manager Robert Glass.
When asked about what drives the company's decades of growth in the receptacles category, Mr. Betensky added, "Beyond guaranteed quality and craftsmanship, we know that timing is a priority for our customers. Our shipping is among the fastest in the industry. Waste receptacles and recycling receptacles are shipped in a matter of days, not weeks or months. In fact, most products ship in two or three days and in stock products ship in as little as one day. Fast shipping is ingrained into our corporate culture."
Glaro Inc. executives shared that the underlying reason they are able to provide superior products and service is because they perform all aspects of manufacturing in house, from fabrication to finishing. "We are 100% in control of our quality and our service. It's one of the benefits of manufacturing on American soil. Our customers have been very loyal since 1945 and we are very proud of that."
To learn more about Glaro Inc. finishes or to order free color samples, Glaro Inc. can be reached at 1-888-234-1050 or info(at)glaro(dot)com.
About Glaro Incorporated:
Glaro Inc. (glaro.com) is a leading USA manufacturer of commercial and consumer aluminum and steel products sold directly to distributors/dealers for almost 70 years. All products ship in 1 to 3 days. Glaro Inc. products are the result of a focus on thoughtful innovation and design. Product lines include bellman and luggage carts, platform trucks, waste receptacles, recycling receptacles, smokers' posts and receptacles, crowd control posts and systems, safety barriers, signs, sign frames, directories, menu display stands, coat hanging equipment, umbrella stands, wet umbrella bag holders, metal planters, and key drop boxes. A diverse selection of models in 31 finishes is produced in the Hauppauge, New York plant by skilled Glaro Inc. craftsmen. The company is known for its quality merchandise and its ability to consistently quick ship all products. The customer service department provides unusually prompt personal service and is sensitive to the needs of dealers and distributors.