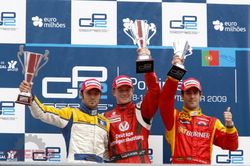 Tallinn, Estonia (PRWEB) October 12, 2009 –
The Fat Burner Racing Engineering team attained nine podium places during its debut formula GP2 racing season this year and shares 3rd and 4th place ranking in team standings.
At the end of this February, the company partly owned by the Estonian entrepreneur and owner of the investment company KC Grupp, Margus Reinsalu, became a major supporter for the GP2 formula GP2 racing team Fat Burner Racing Engineering. At the presentation held in Barcelona and the following press conference, the advertising contract concluded with the team participating in GP2 formula series was disclosed. According to the contract, the Estonian product and trademark Fat Burner became the team's major sponsor.
As Margus Reinsalu said, joining GP2 series was an opportunity to place the high-potential Estonian product on the international market. "There has been lively feedback, and interest in the Estonian product can be traced in the United States, South America as well as Asia. From this August, Fat Burner is on sale in the department store chain El Corte Inglés all over Spain, altogether in more than 300 grocery stores, and the sales are increasing. The product is also on sale in selected petrol stations of the chain Repsol. There are new markets waiting for us ahead and we are actively working on these," Reinsalu was proud to say.
Fat Burner is a fat burning sport drink that was created in 2004 in Estonia in cooperation with the beverage manufacturer Liiwi Heliis and bodybuilding and fitness experts. This is a green tea based functional drink containing L-Carnitine – a natural amino acid, which helps to burn fats and releases body energy from the fat, especially during exercising and moderate physical activity.
The product was initially addressed to the sport industry but has become a consumer product. It is available in handy 0.5 litre bottles with three different flavours and three different levels of L-Carnitine.
In 2007, the entrepreneur Margus Reinsalu discovered the product Fat Burner and its potential usefulness and established together with his business partner Greg Grace the company Tone Tea OÜ. In summer 2008, Tone Tea acquired the rights of marketing the product in most countries of the world. The product is currently sold in 10 countries.
For further information, please visit: http://www.fatburnerdrinks.com. For more information on the formula one racing team please visit http://www.racing-engineering.com.
###