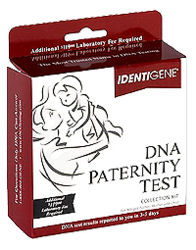 Confirmation of paternity can be a motivator, removing doubts about paternity can empower a father to become involved in parenting.
Salt Lake City, UY (PRWEB) March 05, 2013
Identigene has partnered with Fatherhood Matters Inc., a San Antonio, Texas based non-profit organization dedicated to promoting active fatherhood. The partnership consists of content sharing through Identigene and Fatherhood Matters social media channels such as company webpages, Facebook, Twitter and blog sites. In addition to content sharing, Identigene is supporting Fatherhood Matters with a donation and discount coupons.
"We are honored to work with Martin Henderson and Fatherhood Matters," said Steve Smith, Executive Director of Identigene. "Confirmation of paternity can be a motivator, removing doubts about paternity can empower a father to become involved in parenting," added Smith. Martin Henderson, President of Fatherhood Matters, says it is important to remove any roadblock that deters men from being active in the lives of their children. "I've seen many examples where proving paternity has made all the difference. If a man knows a child is his, he's more likely to provide financial and emotional support and to become invested in that child's future," says Henderson.
Identigene's DNA paternity test kit is the only DNA paternity test kit available at major retail drugstores and supercenters nationwide. The kit is priced at $29.99 SRP, plus an additional laboratory processing fee. The turnaround time for Identigene's test is just two business days. "Fatherhood Matters is in the community everyday speaking to families about the importance of fatherhood. If our partnership with Fatherhood Matters helps bring just one family together, it will have been worthwhile," comments Smith.
The partnership with Fatherhood Matters is not the first non-profit that Identigene has supported over the last year. In July of 2012, Identigene partnered with St. Louis based Family Resource Center with its "Kids Deserve to be Liked" Facebook campaign, helping to fund programs to prevent and treat child abuse and neglect.
About Identigene
Identigene is a global leader in DNA paternity testing, providing both personal and legal paternity tests, as well as other familial relationship testing, such as grandparentage and siblingship. Identigene is America's #1 brand for DNA paternity testing, recognized by doctors, lawyers, and the American consumer. Identigene is the first and only laboratory to bring DNA paternity testing to the general consumer through major drugstores and supercenters nationwide. It is nationally and internationally accredited for both DNA paternity and molecular diagnostics testing services. Identigene is a privately-held, wholly-owned subsidiary of Sorenson Genomics, a highly accredited genomic laboratory renowned for its expertise in human identity, forensics DNA testing, and population genetics.
Visit http://www.DNAtesting.com for industry-leading resources including how-to videos, a store locator, product reviews and a blog dedicated to current issues in DNA and paternity testing. Connect with Identigene on Facebook at http://www.facebook.com/identigene or follow the company on Twitter at @Identigene.