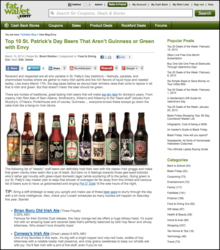 Top 10 St. Patrick's Day Beers That Aren't Guinness
Beloit, Wisconsin (PRWEB) March 14, 2013
FatWallet, the preferred online shopping resource for millions of smart consumers, presents timely savings and savvy tips for St. Patrick's Day preparation. The popular deal site features more than 20 online costume retailers offering coupons and cash back up to 10%. Shoppers can also visit FatWallet's Local Deals to find restaurant and bar discounts of 50% or more in their city, complete with the added savings of cash back from Groupon, Living Social and other top daily deal merchants.
The FatWallet blog is featuring a Do-It-Yourself St. Patrick's Day Costume Guide. It's filled with clever ideas for creating your own holiday gear from shamrock t-shirts to leprechaun beards. The guide includes quick links to stores like Joann.com and Walmart offering coupons and cash back on DIY items. The blog also highlights an expert review of the top ten alternative St. Patrick's Day beers (American Irish Ales and Stouts listed below) and quick links to savings on home brewing and wine making kits and equipment.

Brian Boru Old Irish Ale (Three Floyds)
Conway's Irish Ale (Great Lakes)
Bourbon County Stout (Goose Island)
Irish Ale (Boulevard)
Milk Stout (Left Hand)
Black Top (New Glarus)
Irish Style Extra Stout (Schlafly)
Irish Lager (Rogue)
Dark Star Stout (Starr Hill)
Read the full review of Top 10 St. Patrick's Day Beers That Aren't Guinness or Green with Envy, including links to money-saving coupons from Wine.com, Craft Beer Club and smartphone apps for St. Patrick's Day.
About FatWallet: As the preferred online shopping resource for millions of smart consumers, FatWallet.com works closely with 1,500+ retailers like HP, Newegg, Walmart and Amazon to publish special offers, discounts, coupon codes and Cash Back rewards to its members. The much celebrated FatWallet forums represent the pulse of an evolving online marketplace where smart consumers gather to share and learn. FatWallet is owned by Performance Marketing Brands (PMB) who owns and operates the world's most rewarding shopping programs. Through its family of distinct websites and reward programs, Ebates.com, FatWallet.com and AnyCoupons.com, PMB users can get a great deal and earn money back every time they shop. PMB shoppers are expected to spend over $2 billion through PMB's websites and shopping programs. To learn more, visit http://www.performancemarketingbrands.com.