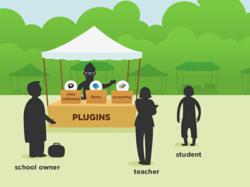 Bangalore, Karnataka (PRWEB) March 28, 2013
Foradian, the company behind Fedena, the award winning web application for school and college management used in more than 40,000 institutes and powering 20 million users worldwide, is launching a marketplace to revolutionize education technologies.
The Fedena Marketplace will be launched on Thursday here in Bangalore. Shoaib Ahmed, President at Tally Solutions Pvt Ltd and Soumitra Sharma who is part of the Investments Team at IDG Ventures India Advisors, will be the guests of honor for the event.
The Fedena Marketplace will feature plugins and applications that will help add useful and necessary features to school management information system. These plugins are developed by certified technical companies who focus on innovating education technologies and can be installed easily without any help from a technical team. Marketplace lists and reviews Fedena native plugins, Fedena integration plugins and other professional services and hardware.
Fedena Marketplace will be up and running at:
marketplace.fedena.com
AIndra, one of the partner technical companies, has developed AIndra Attendance Management plugin for Fedena, which allow schools to mark student attendance with just a click on a mobile phone. AIndra Attendance Management uses artificial intelligence technology to scan student's face and mark him present in the records thus saving both time and efforts. This is one of its kind technology and a pioneer one too. The plugin is now available at Fedena Marketplace.
Fedena Marketplace now showcases some very unique and advanced Fedena plugins like 55444 Search developed by Mobicube which uses 55444 SMS mobile search technology by Innoz, an offline search engine that allows schools to search through their data with an SMS, Super Receptionist by Knowlarity, an Interactive Voice Response (IVR) for any institution, and a lot more.
Sharing his vision about the Fedena Marketplace, Abdulla Hisham, Co-founder and MD at Foradian says, "We want the Fedena Marketplace to be similar to Amazon marketplace targeted at schools and colleges. Even though the core offerings will be Fedena plugins and non-plugin. Non-fedena products and services will also be introduced gradually."
About Foradian
Foradian is an award winning school ERP software provider, based in Bangalore, India. The company's flagship product Fedena is an enterprise software solution for schools, colleges and universities. The basic version of Fedena is available as free and open source. Fedena is user friendly (powerful UI/UX which allows any user to start using the application in just 10 minutes of login), business friendly (Apache license) and customisation friendly (plugin architecture) software.