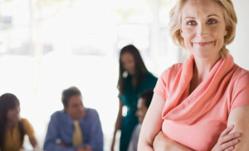 Prestige and influence are two very different things, and for that reason, it isn't necessary to have a title to be a company leader/influencer.
Tampa, FL (PRWEB) March 30, 2013
A recent article in Forbes Life authored by billionaire entrepreneur Mark Cuban provides some illuminating insight into how the leadership lessons he learned early in his career contributed to his later success. Of particular interest to FPMG, a Florida performance management firm, was how Cuban failed in his initial attempts to lead from the middle; he could have used some of the tips the company provides below on how to leverage influence in the workplace without a title.
"Prestige and influence are two very different things, and for that reason, it isn't necessary to have a title to be a company leader/influencer," says Denise Federer, Ph.D., FPMG's founder. "John Maxwell, who's authored numerous books on leadership, including Developing the Leader Within, notes that having a title is actually the lowest form of leadership."
FPMG notes that this is great news for anyone who isn't "titled," yet desires to be influential within an organization; as the behavioral/emotional intelligence skills needed for each level of leadership are acquired, people gain more influence, regardless of their title. However, there are a few things aspiring "middle leaders" need to know about Maxwell's "5 Levels of Leadership" model before they can be successful:

Position. The basic entry level of leadership, where the only influence you have comes with the title.
Permission. Colleagues see that you've developed impressive interpersonal relationships, and you care about them and what matters to them.
Production. Colleagues begin to respect what you've contributed to the organization and admire you. This is imperative—along with trust and credibility—to be considered a leader.
People Development. You demonstrate the ability to contribute to colleagues' career success; people grow through your mentorship and become loyal to you.
Personhood. Your colleagues think you're amazing
"To be a key influencer without having a title, your colleagues must respect you, see you being consistent, and know they can count on you—and you must own your own power," Federer says. "You need to see yourself as being in a leadership role, and understand you have a great opportunity to be impactful, even though you don't have a seat in the boardroom, so to speak."
FPMG believes there are a few things people must always keep in mind as they seek to wield influence without a title:
Your success will always come down to whether people trust and respect you.
Your behavior must be aligned with organizational values.
You must say what you'll do and do what you say, i.e., walk the talk.
You need to be good at what you do while ensuring your colleagues understand you're a big picture person who really cares about the organization.
You must become an advocate of mutual respect, finding value in others as you seek to ensure they value you.
You must always be aware of your tone, and how others perceive you.
"Many employees don't aspire to be the president of a company or even have a defined leadership role, but most people would like to be seen as influencers," Federer says. "Think about your own workplace; do you have untitled colleagues whose opinions or approval are continually sought, both by those who are 'under' and 'above' them? Those people have figured out how to lead from the middle, serving in an influential role without the benefit of a formal title."
About FPMG
FPMG is a Florida performance management consultancy dedicated to guiding successful people to be their best. Based in Tampa, we help you uncover the non-financial issues that impact the bottom line. FPMG offers consulting for family business problems, financial advisors legacy advising, leadership development, and more.