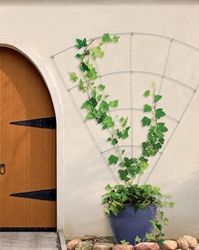 What sets our trellises apart is their ability to be adjusted in both size and grid pattern to fit a variety of design and wall conditions and their use of stainless steel and aluminum materials which are not commonly associated with garden trellis produc
Oakland, CA (Vocus) August 24, 2010
Retailers attending the Independent Garden Center (IGC) Show in Chicago this August had the opportunity to see the unveiling of Feeney's two new wall mount trellises: the Somerset®II and the 3-in-1. These new trellis offerings use durable powder-coated aluminum and stainless steel supports along with stainless steel rods, cables, and components to create a variety of simple and elegant trellis designs. They're perfect for displaying light- to medium-weight foliage in both home and commercial landscape settings.
"With today's smaller living areas, garden space is often quite limited, and trellises are a great way for homeowners and businesses to expand their garden areas and turn otherwise stark walls or fences into colorful, textured backdrops," said Andrew Penny, VP-Marketing at Feeney Inc. "What sets our trellises apart is their ability to be adjusted in both size and grid pattern to fit a variety of design and wall conditions and their use of stainless steel and aluminum materials which are not commonly associated with garden trellis products. These materials are not only uniquely beautiful but also extremely durable and virtually maintenance free, plus they have a high recycled content for a friendlier footprint."
The Somerset®II trellis consists of 40" long powder-coated aluminum angle brackets top and bottom that screw to the wall face and support a lattice of 1/8" diameter stainless steel vertical cables and horizontal rods. The brackets can be spaced from 2' to 6' apart to fit a variety of wall heights, and adjustable Quick-Connect® cable attachment fittings allow the cables to be easily trimmed to exact size. Special Mirco Cross-Clamp fittings with locking setscrews securely hold the rods in position. Multiple kits can be mounted adjacent to one another to make extended trellis panels.
The 3-in-1 is an all-stainless-steel trellis with 1/8" diameter rods and special mounting components that can be configured into any one of 3 trellis design layouts (Fan, Grid, or Diamond), or customers can create their own trellis patterns. Rods come in 48" lengths that can be spliced together using Connector Tubes, and they are supported by specially designed 2" Stand-Off fittings that screw into the wall. Micro Cross-Clamp fittings securely hold intersecting rods in position using locking setscrews.
Both of the trellises are sold in complete kits, with everything needed for assembly and installation, and they come packaged in brightly labeled boxes (2" D x 4-1/2" W x 49" L) for eye-catching retail display. "One of our goals with these trellises was to create lightweight, compact, and visually compelling packaging," added Mr. Penny. "They're very easy to ship and to handle and offer retailers the opportunity to present the product in small and economical yet attractive freestanding or shelf displays."
More information on Feeney's Trellis Collection is available on their website http://www.feeneygarden.com, and they have an experienced customer service staff that is available to assist with product selection and technical support Monday-Friday, 5am-5pm Pacific time by calling toll-free 1-800-888-2418.
Feeney Inc, based in Oakland, California, is a leading manufacturer of high quality stainless steel and aluminum products, marketed under their Feeney Architectural Products and Feeney Garden Products lines. They celebrated their 62nd anniversary in 2010. For more information and technical support, please call the Customer Service Hotline at 800-888-2418. Members of the media can get the latest news from Feeney at http://www.feeneyarchitectural.com/media.
Contact:
Andrew Penny (apenny(at)feeneywire(dot)com)
Feeney, Inc
PH: 800.888.2418 ext 101
FAX: 510.893.9484
###