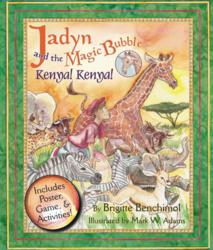 Children must be taught to value nature so they will protect wild animals and their homes. Help us raise consciousness in offering a book to a child that will change his/her life. Because we all had a book that changed our life
Washington, DC (PRWEB) October 31, 2012
The Feline Conservation Federation (FCF) and award winning children's book author Brigitte Benchimol are teaming up to educate children and save animals. This is the latest effort by FCF to assist teachers, parents, and wildlife and conservation educators by providing age appropriate learning materials. The Youth Section on the FCF website includes a feline poster and natural history information and can be downloaded by children, parents and teachers. A free monthly e-newsletter is sent to anyone who signs up for it on the FCF website.
FCF has just joined with Brigitte Benchimol to help kids discover learning, reading, history, geography, social studies, imagination, science and art. Benchimol delivers dynamic storytelling and fun interactive presentations, guaranteed to inspire and stimulate young minds! An enlightening three book series featuring Jadyn and the Magic Bubble, can now be purchased online at the FCF Store. Each book can be purchased with Paypal for only $23, including shipping, mailed to US addresses. Benchimol will personally autograph each book ordered.
Benchimol's "Kenya! Kenya!" raises consciousness of the impact humans have on the environment, and more specifically the animal world. Children explore the animals, and discover their humanity. "This book is an especially good companion for any wildlife educator presenting programs to elementary students, says FCF Wildlife Conservation Educator Debi Willoughby. Each book includes a poster, game and activities, and both Discovering India, and I met Gandhi, have a story CD too. For every three books bought, one book will be donated to the FCF, allowing them to educate more children.
In Benchimol's, "Discovering India", the concept of global citizenship is brought to reality. Jadyn explores India through the five senses, in a hands-on curriculum that allows each child to experience the journey directly.
In Benchimol's, "I met Gandhi", readers are transported straight into Mohandas K. Gandhi's life, giving children a chance to experience nonviolence through Gandhi's teachings.
This environmentally inspiring set teaches young readers core values for life, helping them explore their character traits, and learn respect, tolerance, generosity, nonviolence, and social responsibility.
The Feline Conservation Federation is an international organization devoted to educating the public about the various species of felines and the threats they face in captivity and in the wild. FCF is offering a Wildlife Conservation Educators Course Sunday, November 11 at the Conservators' Center in Mebane, North Carolina. Interested students may register online for this course, part of a Wildcat Weekend planned at the Center. The course teaches educators how to choose and present ambassador animals, how to develop educational programs for various audiences, and how to start and grow a successful business.
FCF member facilities provide exotic felines for outreach ambassadors, helping educators spread awareness of issues facing felines in nature. FCF executive Director Lynn Culver believes teaching youth is vital due to escalating threats to nature. Culver says, "Children must be taught to value nature so they will protect wild animals and their homes. Help us raise consciousness in offering a book to a child that will change his/her life. Because we all had a book that changed our life."