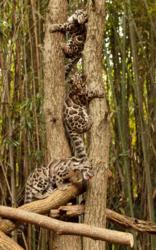 Folks interested in learning about how to care for, and protect exotic felines are welcome to register and attend the FCF Convention.
(PRWEB) May 20, 2013
Thursday, June 6th, exotic feline enthusiasts from around the world will gather for three days of learning, networking and fun during the annual convention of the Feline Conservation Federation (FCF). Federation members own and work with wild felines, are educators, researchers, conservationists and exotic cat enthusiasts. Executive Director Lynn Culver says, "Folks interested in learning about how to care for, and protect exotic felines are welcome to register and attend the FCF Convention."
The FCF's 42nd Annual Convention will be hosted at the Radisson Hotel Nashville Airport, ideally situated just one mile from Nashville International Airport. The FCF $95 room rate is good till May 24. Call (615) 889-9090 or Radisson's toll free number (800) 967-9033. Preceding the convention, FCF offers two educational classes on Wednesday, June 5. Certified instructors teach both a Basic Exotic Feline Husbandry Course and a Wildlife Conservation Educator's Course. Each class starts at 8 am and runs to 5 pm.
Thursday afternoon, the FCF hospitality suite opens for registration, vendors and on exhibit will be exotic felines, including caracal, Geoffroy's and Eurasian lynx kittens. A silent auction and "Big Cat Bingo" provide good fun and an assortment of fine food and cash bar keeps folks fed and happy.
Friday, June 7th, FCF goes to the Nashville Zoo, a 200 acre habitat for exotic wild animals, including white Bengal tigers, Eurasian lynx, cougar, and, the zoo's specialty, clouded leopards. FCF has reserved the Jungle Terrace Pavilion to serve a delicious buffet lunch. A very special "meet and greet" with the zoo's latest litter of baby clouded leopards is part of this experience.
Friday Night is filled with dining and dancing at the Wildhorse Saloon, famous throughout Nashville for its excellent food and entertainment. Live DJs keep the music playing while patrons learn line dancing from the "mustang dancers."
Saturday speakers include Dr. Jim Sanderson, speaking on the latest findings from camera trapping around the globe. Special international guest Gregory Breton, director of felines at Le Parc des Felins, Paris, France, will share husbandry experience from across the ocean. The 34-year-old Frenchman works at this unique park where 26 different species of felids (and many subspecies) live in large natural enclosures. Len Davidson speaks on her ground breaking DNA study on Geoffroy's cats. Kevin Chambers will lead a discussion on feline attacks and analyze the step by-step action in video clips. Saturday Night Banquet tops off the three day Convention.
Act today to take advantage of the early bird pricing of just $200 by mailing your enclosed registration form by May 21 ($225 after that date) to FCF Treasurer, 141 Polk Road 664, Mena, AR 71953. You can also register online and pay with PayPal. Go to the coming Events page of the FCF website. Convention registration fee covers Thursday, Friday, and Saturday evening meals, Friday transportation and zoo entry, special clouded leopard "meet and greet," deli lunch, and Saturday's line up of great speakers.
The registration fee for the three day convention runs $200 for adults, kids under 12 are free with adult, and children ages 12 to 18 cost $125. Both of Wednesday's educational courses are $130 each. "The FCF annual convention has something for everyone - exotic kittens, a day at the zoo, informative speakers, and plenty of networking opportunities", says Lynn Culver.