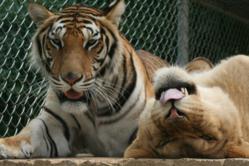 FCF educational exhibitors are important partners that help shape public policy and support for habitat protection in nature and in captivity.
Washington, D. C. (PRWEB) September 14, 2012
Tigers for Tomorrow on Untamed Mountain meets the high standards of feline care and facility management that are hallmarks of the Feline Conservation Federation facility accreditation. Doc Antle, chairman of the accreditation board, visited the preserve and was so impressed he donated to it a trio of his very rare tiger cubs. Visitors can now view a golden tabby, a royal white and a standard orange Bengal tiger playing together in their roomy new habitat on the mountain preserve. The accreditation committee reviewed the extensive written application and approved Tigers for Tomorrow for FCF accreditation.
Tigers for Tomorrow on Untamed Mountain is a 140-acre piece of property in Attalla, Alabama, nestled in the Appalachian Mountains. In the six years since the facility moved from Florida to Untamed Mountain, the animal population has grown to 87 predators consisting of 30 tigers, eight lions, 13 cougars, 19 wolves, two serval, a Canada lynx and a Siberian lynx, two leopard, one bobcat, four black bears and one grizzly bear. Presently a 10-foot perimeter fence suitable to hold predators encloses 18 acres. If more animals come to the mountain preserve, Sue says the perimeter fences will need to be expanded.
To run the facility, Sue Steffens and her husband Wilbur McCauley work full time, along with four other full time keepers, a couple of interns, ten volunteers in a core group and about ten more who help with functions and special projects. Tigers for Tomorrow is open all year, every Friday through Sunday, 9 am to 5 pm, with additional hours during spring break and summer. The preserve also hosts private tours, environmental education tours, home school groups, and the occasional wedding or birthday party. There is even an environmental education outreach component to Tigers for Tomorrow and a "legacy living classroom" that houses species such as snakes and possums to teach about native wildlife.
Tigers for Tomorrow enclosures are built using nine-gauge chain link, even for the smaller cats. The smallest cat enclosure is 1000 sq feet; the largest is 7500 sq feet, and the wolf pack runs inside an acre enclosure. Tigers for Tomorrow is licensed as an exhibitor by both USDA and Alabama state wildlife department.
A new book written by Sue and animal communicator Debbie McGillivray titled, "Untamed Voices" has just been released. It contains animal stories from the preserve. Sue says, I hope the book will bring greater awareness of the thoughts and feelings of animals at the preserve."
The Feline Conservation Federation facility accreditation board carefully reviews applicants to ensure that the facility is providing excellent care for felines. FCF exhibitors provide great experiences for the public and help shape a better future for felines living in nature. FCF educational exhibitors are important partners that help shape public policy and support for habitat protection in nature and in captivity. FCF Executive Director Lynn Culver says, "This is increasingly important because so many feline species are facing a real threat of extinction if we do not act to reverse population declines."