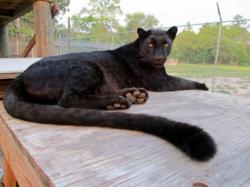 Congress needs to address the federal budget deficits and not create more unnecessary and expensive burdens for the taxpayers.
(PRWEB) September 26, 2012
The Feline Conservation Federation (FCF) has concluded Senate Bill 3547 will lead to the elimination of some big cats commonly exhibited at many zoos, parks and educational exhibits. The Big Cat and Public Safety Protection Act makes it illegal for independent zoos, exhibitors and other federally licensed and inspected commercial businesses to own, acquire or breed, seven species of large cat, namely lion, tiger, leopard, jaguar, cheetah, puma or snow leopard.
On September 17, Senator Kerry introduced Senate bill 3547, legislation that makes big cat breeding illegal unless it is done by members of the Association of Zoos and Aquariums. Lynn Culver, FCF executive director, believes Congress should not support this bill. Culver says, "Even though all zoos must meet the same animal welfare regulations, this bill creates a monopoly on big cat breeding and exhibition for one trade association, which is a violation of the Sherman Anti-trust Act." Another problem, believes Culver, is that the association does not have enough members to conserve all the various kinds of big cat species.
FCF has analyzed the AZA feline breeding programs and concludes S3547 will have a detrimental effect on U.S. populations of spotted Asian and African leopards and black panthers, as well as Bengal tigers and the various rare color mutations, such as white and tabby, because the AZA does not manage these kinds of felines. Culver says, "It is up to FCF facilities and independent zoos to conserve these big cats in captivity."
Senate Bill 3547 will have a huge impact on the future of hundreds of zoos that provide valuable wildlife viewing opportunities. Another effect of Senate Bill 3547 will be to prevent circus, stage, screen and television shows from continuing their work. "The public will be the big losers, as AZA zoos do not have the trained animals or the employees with the appropriate skills to fill the needs of such specialized productions", says Culver.
The Senate bill 3547 requires all big cats to be registered and new regulations be drafted and enforced by federal agencies. Culver points out that the bill will put many licensed, law abiding commercial venues out of business because it prohibits the very activity permitted by their USDA license. Once a facility no longer qualifies for a commercial license, the cat owner must register and comply with unknown regulations.
The Feline Conservation Federation is a self-regulating group of peers with an established group of professional members and inspected and accredited facilities. The non-profit association is devoted to the conservation of wild felines, and to captive feline welfare and public safety. Members are zoos, sanctuaries, private owners, breeders, and educators. FCF is both an important genetic resource as well as a key resource of ambassador animals used in conservation education.
FCF provides continuing education courses throughout the country. The FCF has partnered with the Conservators' Center for a Wildcat Weekend that teaches the Wild Feline Husbandry Course Friday, November 9 and a Wildlife Conservation Educators Course on Sunday, November 11 at the North Carolina center.
Culver says, "Senate Bill 3547 is unnecessary. With the recent passage of a state ban on exotic animals in Ohio, there is no need to use the tragedy of the mass killing of big cats as an excuse to introduce this bill. Ohio has already addressed this issue. Congress needs to address the federal budget deficits and not create more unnecessary and expensive burdens for the taxpayers."