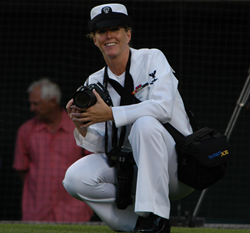 MENIFEE, Calif. (PRWEB) January 28, 2019
It is estimated 1 out of every 5 female veterans have experienced Military Sexual Trauma and 9 out of every 10 suffers from PTSD. Female veterans are 2 1/2 times more likely than non-veterans to commit suicide. There are an estimated 3,600 female veterans that are currently homeless. As veterans we need to support each other and as a country we need to support not just our male veterans, but our female veterans else well.
"In sharing my story and experiences with other female veterans I quickly realized that they also felt left behind and alone. Many female veterans deal with the same issues and struggle with similar symptoms. That's why I founded Veteran Sisters, a 501(c)(3), non-profit organization dedicated to helping female veterans dealing with Military Sexual Trauma, Post Traumatic Stress Disorder, Depression, and Anxiety" stated Kemp.
Kemp went on to say, "By sharing our stories, we help one another realize we are not alone and we have battle-buddies by our side. Together we recognized a gap between the veterans associations and female veterans, especially concerning MST related PTSD." The goal of Veteran Sisters is to help bridge that gap, and to ensure that we represent the unique needs of female veterans through support and advocacy". Veteran Sisters has been life-changing for hundreds of female veterans across the country. There is a powerful bond between our members because of their shared experiences and knowledge that that there is an entire community of women who understand and are there to support one another.
"There are a wide range of unique challenges faced by Female veterans", Kemp said. Currently, both homelessness and suicide among female veterans are rising at an alarming rate. Many female veterans feel isolated because the VA and other organizations tend to be so male-oriented. PTSD in the context of combat experience is understood, but women and men who suffered sexual trauma related to their military service also suffer from PTSD. The exposure of Military Sexual Trauma as an issue helps, but female veterans often conceal sexual trauma for the sake of their careers. They are in a unique position in that they have a contract to fulfill. They just can't quit their job and walk away.
The decision not to report can make it difficult for female veterans to file a claim because often there is no record of the trauma they have experienced. It is so important to acknowledge and document the ways PTSD has affected their daily lives. Kemp stated, "There are times we are unable to leave the couch for weeks due to our symptoms, the nightmares and insomnia. All these symptoms are evidence that we are suffering as a result of our MST." Veteran Sisters wants to encourage female veterans to get out of the house, get involved, and seek help.
Many female veterans are fearful of claiming their benefits because it requires re-exposure to military environments and programs. This exposure can be a significant stressor to the women who associate the military with traumatic experiences. Instead of sending them out on their own and forcing them to figure things out along the way, Veteran Sisters members assist one another by staying by their sides until they achieve their goals.
Kemp also stated, "We really want to help people rethink the word 'Veteran'. When most people hear that word, they visualize grandpa, dad, an uncle, or a brother. We want people to see that it is also the mom, grandma, an aunt, or a sister."
Kemp when on to say, "Our vision is to create a center specifically for female veterans, a place they can call home. To do this, we created Veteran Sisters Operation Wellness to raise money towards establishing community centers where we can offer classes, activities, educational resources, support, and assistance with obtaining benefits."
Veteran Sister's Operation Wellness is about getting female veterans off their couches. It is about helping them to reintegrate into society after service. Whether it's helping them relax by taking them fishing or walking them through the medical claims process and attending their VA appointments, Veteran Sisters offers them the companionship and support they need.
The concept behind Operation Wellness is to provide a "home". A place where female veterans can heal through shared experiences, stories, and the sense of camaraderie that they often lack in their lives after their service. "We are not just a resource center, unlike other organizations, we don't only offer up a phone number and send them on their way, we educate them on what to expect. We go through the process with them, and we work to reduce the anxiety associated with obtaining their benefits", said Kemp
The goal is to encourage them to re-engage in the things that they were once great at and provide them with the environment and resources to do so. Eventually, they hope that many of these women will be able to take advantage of the other services available and participate in other veteran's organizations, but until they feel strong enough to do so, Veteran Sisters wants to provide them with a safe place to receive support and healing.
Veteran Sisters has established a GoFundMe page and their goal is to raise $200,000 over the next three years. These funds would enable them to create their own wellness centers and ensure they can provide their services to all female veterans for free. Currently their staff members are unpaid volunteers, but the cost for rent, utilities, electric, and supplies can add up.
All of all us can support Veteran Sisters by visiting their webpage at veteransisters.org, by visiting the Veteran Sisters Facebook or Instagram page or by directly supporting their GoFundMe account.
Those who are unable to provide monetary donations who still wish to be involved in other ways can also support Veteran Sisters by donating services or other items. They are constantly seeking out new partnerships and creative ways to provide support and resources to our Veteran Sisters.
By-Line
Kevin Mason