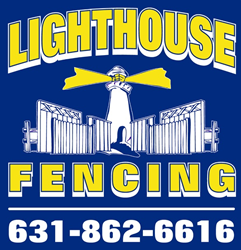 Fence Contractors on Long Island, Lighthouse Fence installs several types of fence.
Long Island, NY (PRWEB) March 06, 2013
Lighthouse Fencing of Long Island offers a wide variety of different fences for your property. Fences often act to punctuate a property, as the gateway to the home. However, fences come in a variety of styles that require professional attention in order to understand how to best choose the right fence for the property.
Lighthouse Fencing services Long Island, including both Suffolk and Nassau County. The company is owned by Chad Dreschler, who has a long history in the field of fencing. His career began at the age of 15 under the tutelage of his grandparents. As a result, fencing has become second nature to him. According to a company representative, "Most people work cause they have to, and to an extent so do I. But in reality, I live and breathe my job and take it very seriously. I genuinely enjoy helping people improve their property and make it safer. To be frank, I can't see myself ever wanting to stop."
The owner's enthusiasm towards fencing is clearly evidenced in their product. He demands the best from his employees so that they can deliver the perfect product to their customers. His website, located at http://www.longislandfenceco.com, provides important information to prospective customers on different types of fences. To name a few Lighthouse sells and installs:
PVC Vinyl Fence
Aluminum Fence
Wood Fence
Deer Fence
Chain Link Fence and more.
Included on the site is a photo gallery that allows prospective customers the ability to look through at defends styles and see how they fit for particular houses. The company offers numerous types of fences.
However, picking a fence isn't a triviality. A lot of the decision depends on what homeowners are looking to get out of the fence. For some they are merely looking for a way to enclose dogs or keep out employers. For others they are looking for a fence that will stand the test of time, and not need to be replaced. For others still, they are more interested in a fence with aesthetic value that will impresses neighbors, friends and family, making the home the envy of the neighborhood. The point is that there are many fences designed for different motivations. Lighthouse Fencing will help customers decide what fence fits their needs. Through free consultations, they will show customers fence options, the price of each fence and how best to proceed. Fences are major part of our properties, and one that should not be done without professional advice.
Lighthouse Fence
631-862-6616