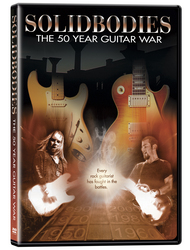 'Solidbodies, The 50 Year Guitar War' repeatedly delivers guitar eye candy with historic and contemporary visuals of Strats and Les Pauls and an equal dose of ear candy as featured guitarists crank out riff after riff of crunchy Les Paul grinds and that glassy Strat tone
Saltillo, MS (PRWEB) April 9, 2008
A new documentary, which is now available on DVD, tells the story of the five decade competition to decide the guitar sound that will dominate rock music. Starting with their conception and design in the early fifties, "Solidbodies, The 50 Year Guitar War" focuses on the competitive influences that have made the Fender Stratocaster and the Gibson Les Paul the guitars heard on more popular recordings than any others instruments during the rock era. The documentary features players, historians and collectors offering commentary accompanied by performance segments and a soundtrack featuring solos played on those two guitars.
Among the players contributing commentary are Joe Bonamassa, named 2008's Best Blues Guitarist by Guitar Player Magazine's readership in their annual Reader's Choice Awards; Henry Garza, guitarist and singer with the Grammy Award winning Los Lonely Boys and Derek Trucks, famed slide guitar virtuoso who leads his own group and played in Eric Clapton's band during his 2006-2007 World Tour.
A trailer of the documentary can be viewed at the film's website, http://www.SolidbodiesTheMovie.com.
"'Solidbodies, The 50 Year Guitar War' repeatedly delivers guitar eye candy with historic and contemporary visuals of Strats and Les Pauls and an equal dose of ear candy as featured guitarists crank out riff after riff of crunchy Les Paul grinds and that glassy Strat tone," says Modern Guitars Magazine.
Experts who offer their scholarly views on the history of the Stratocaster and Les Paul include George Gruhn, the owner of Gruhn Guitars who is considered to be one of the world's leading experts on vintage guitars and Richard R. Smith, the author of 'Fender: The Sound Heard 'Round The World' which is often viewed as the definitive book about Fender guitars.
While dedicated guitarists will certainly appreciate the storyline, rock music fans will discover while viewing the film that most of the memorable guitar sounds they have listened to over the years have been played on the Stratocaster and the Les Paul.
"Solidbodies, The 50 Year Guitar War" was written and directed by Guy Hornbuckle. The director is an award-winning broadcast journalist whose company Lightning Lab Productions, LLC produced the documentary.
Contact:
Lee Walls
Lightning Lab Productions, LLC
(662) 869-2447
# # #