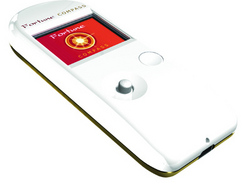 Even though some of the staff didn't believe it would change anything, two months later, we closed the largest contract in the history of our business
Portland, OR (PRWEB) November 25, 2008
Fortune Compass, LLC, the company that makes the hand held electronic Feng Shui compass by the same name, announces its worldwide distribution. With the combined efforts of Feng Shui professionals and enthusiasts who helped beta test the product, it is now available to consumers worldwide.
The Fortune Compass is a hand held electronic Feng Shui compass used to immediately locate and engage the Law of Attraction for your personal favorable Qi energy in every environment and is a precision instrument that makes complex and authentic Feng Shui calculations usable by anyone in every environment. Using this new tool any novice can quickly and easily locate the vibrational frequencies of their environments. The Fortune Compass detects frequencies that can enhance your personal vibrations and help you to attain success, strengthen relationships, improve health and obtain personal growth while also showing you energies that are challenging and can negatively influence your life. Additionally a Chinese Gua generator computes personal favorable and challenging frequencies for you, your friends and family. Engaging these frequencies by facing or sleeping in these directions you can always have the support of the environmental energy at your fingertips.
"The key to useful Feng Shui is an accurate, stabilized compass," says Steve Vollum, President of Fortune Compass, LLC. "The Fortune Compass has easy to navigate menu choices, a fresh and modern design, and a sharp LCD display that makes using the product fun and simple."
As a result of many beta tests, Fortune Compass is excited to bring similar success to consumers nationwide. "Even though some of the staff didn't believe it would change anything, two months later, we closed the largest contract in the history of our business," states Vanessa Edwards, CFO of Rubicon Marketing Group and one of many beta test participants who reported tremendous success stories. "Then, in Q1 of 2008, we booked more business than we had booked in all of the previous year!"
Steve Vollum, an entrepreneur, electrical engineer, programmer, and inventor who holds several patents, started the business with Tisha Vollum to tie his refreshing enthusiasm for innovation and a love for electronics, his lifelong passion, to his strong beliefs and reliance in the power of Feng Shui. The Fortune Compass is available at Fortune Compass.com and Skymall
Fortune Compass, LLC is a customer service driven company focused on producing innovative products of the highest quality with a strict adherence to ethical business practices and appropriate, environmentally safe manufacturing.
###