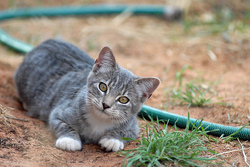 an effective way to highlight the issue of overpopulation of feral and stray cats, and the humane approaches to helping them
(Vocus) October 12, 2009
Best Friends Animal Society encourages people to use National Feral Cat Day on Oct. 16 as an opportunity to learn how they can be part of the solution to make life better for homeless cats.
Started in 2001 by Alley Cat Allies, National Feral Cat Day has become "an effective way to highlight the issue of overpopulation of feral and stray cats, and the humane approaches to helping them," said Shelly Kotter, Focus on Felines campaign specialist for Best Friends Animal Society.
Kotter explained that Best Friends Animal Society believes that the needs of free-roaming cats and the issues surrounding them -- which exist in every community -- are best encapsulated in the term "community cats."
"There is no one description that fits all free-roaming cats," Kotter added. "These homeless cats are the result of a failure in the community -- unneutered housecats that wandered away from home, cats abandoned when the family moved, or cats that have never been socialized to people in the first place. None of these cats would be on the streets if people had spayed or neutered their pets and kept their cats safe."
Kotter outlined some simple steps to help homeless cats:
"You can get involved as much, or as little as your schedule and budget permit. Don't underestimate what seems like a small contribution to the cause: many people doing little things add up to major accomplishments," she said.

If you feed stray cats, spay and neuter them so that the breeding cycle is stopped.
Keep your own cats from becoming statistics. Have them live in the home. Get them spayed or neutered, vaccinated and microchipped. If you want your cat to have outside experiences, please consider screening-in a porch or patio, building a cattery, investing in special cat fencing, and/or teaching your cat to walk on a harness.
Support your local community trap/neuter/return (TNR) groups. Donate -- even small amounts add up. Volunteer a couple of hours a month.
Become a caregiver for a local cat colony.
Foster adoptable kittens or lost housecats rescued during TNR operations.
"Best Friends believes the solutions for these cats rest with the community as well. Through a variety of strategies, people have the power to help the cats lead a humane life as well as reducing the number of cats who are eking out an existence on the streets," Kotter said.
"We like to think that every day is 'community cat day.' We are working with communities across the country on innovative and proactive programs to help lessen the numbers of feral and stray cats euthanized in shelters.
"Through our work, several rural Iowa communities have embraced TNR programs, fostering and re-homing kittens and tame cats rescued from colonies. If the cats are in a place where they are at risk, the people in these towns follow strict relocation protocols to provide the cats a new home," Kotter said.
Other successful components of Best Friends Focus on Felines program includes:
Four Directions Community Cat Program (southern Utah)
This unique program works with more than 38 urban and rural communities in southern Utah. Best Friends' clinic as well as five veterinary clinics around southern Utah participate in this low cost spay/neuter program. The program has six new relocation colonies that re-home feral cats that otherwise would have been euthanized.
FixNation (Los Angeles)
Best Friends works in Los Angeles with FixNation, a nonprofit clinic that cares mainly for feral and stray cats but also operates as a low cost spay/neuter clinic. The first of its kind in the United States, the ground-breaking clinic leads the way as a model for community cat clinics around the country. The clinic works with local groups and individuals to battle cat overpopulation, providing free spay/neuter services for feral and stray cats, as well as shots and health checks. In addition, FixNation and Best Friends work together to lower the shelter euthanasia rates in East Valley, an impoverished area of Los Angeles. The program targets East Valley residents, offering TNR as an alternative to trap and kill. In the first year of the program, estimates are that East Valley shelter cat intake statistics will be reduced by five percent.
First Coast No More Homeless Pets (Jacksonville, Florida)
The killing of community cats has ended in Jacksonville.
The Feral Freedom Program is a collaboration between the city of Jacksonville, First Coast No More Homeless Pets (FCNMHP), the Jacksonville Humane Society and Best Friends Animal Society. Cats who arrive at the shelter in traps are turned over to FCNMHP to be spayed/neutered, then returned to their original trap location. Other communities are adopting this program as a way to save lives and taxpayer dollars.
No More Homeless Pets (northern Utah)
NMHP Utah and Best Friends work together with local governments to improve the shelter systems in northern Utah using tax dollars to combat the over population of community cats.
About Best Friends Animal Society:
Best Friends Animal Society is a nonprofit, membership organization building no-kill programs and partnerships that will bring about a day when there are No More Homeless Pets®. The society's leading initiatives in animal care and community programs are coordinated from its Kanab, Utah, headquarters, the country's largest no-kill sanctuary. This work is made possible by the personal and financial support of a grassroots network of members and community partners across the nation. In 2009, Best Friends celebrates its 25th anniversary.
###